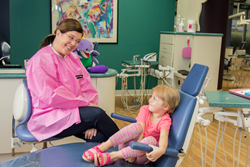 Avon, OH (PRWEB) October 28, 2016
In celebration of Dental Hygiene Month during October, pediatric dentist Dr. Carolyn Crowell and her dental team are educating their patients on the benefits of treating tooth decay with silver diamine fluoride (SDF). Dr. Crowell and her team are making this preventative treatment more available by now accepting new patients for treatment without the need of a referral. Research shows that SDF can effectively halt the development of dental caries, protecting patients from various harmful side effects. This treatment also provides a highly convenient, cost-effective option for children who suffer from tooth decay in Avon, OH.
With SDF, Dr. Crowell and her colleagues, Drs. Maria Ramirez and Charissa McCune can often eliminate the need for other cavity treatments. SDF treats bacteria and prevents new bacteria from growing at the application site. This type of fluoride also strengthens the surface of the teeth, which makes it highly effective at inhibiting future caries growth. In one study published in the Journal of Dental Research, researchers found that applying SDF to caries directly was just as effective as applying it after cavity removal. In the same study, SDF proved more effective at halting cavity growth than sodium fluoride.
Dr. Crowell is a highly trained, experienced pediatric dentist who is committed to providing compassionate care, and she is proud to offer patients an alternative to conventional cavity removal. SDF treatments spare children from unnecessary discomfort or distress, since the solution is applied topically. Children also face a low risk of infection as a result of the minimally-invasive nature of this treatment. Furthermore, this approach to treating tooth decay in Avon, OH, is effective at preventing a number of serious complications that cavities can cause, including breaking of the teeth, bite misalignment, potentially dangerous abscesses and tooth loss.
For more information about options for preventing and treating tooth decay, patients can visit Dr. Crowell's website at http://www.drcrowell.com. Patients who need to schedule treatment for tooth decay in Avon, OH, with a pediatric dentist may request appointments by visiting the website or calling Dr. Crowell's office at (440) 934-0149.
About the Practice
Dr. Carolyn B. Crowell, DMD & Associates is a dental practice offering pediatric dentistry and orthodontics to patients in Avon, Ohio. Dr. Carolyn B. Crowell is a pediatric dentist and a Diplomate of the American Board of Pediatric Dentistry as well as a Fellow of numerous organizations including the Academy of Pediatric Dentistry. Dr. Charissa McCune is an experienced orthodontist who is a member of the American Association of Orthodontics, among other prestigious dental organizations. Dr. Maria Ramirez is a pediatric dentist who specialized in Children's Dentistry at MetroHealth Medical Center Pediatric Dental Clinic in Cleveland. Drs. Crowell, McCune and Ramirez offer the latest in pediatric dentistry and orthodontics including laser dentistry in order to provide each patient experienced, comfortable and trusted care. To learn more about the doctors or the services they offer, visit their website at http://www.drcrowell.com or call (440) 934-0149 to schedule an appointment.