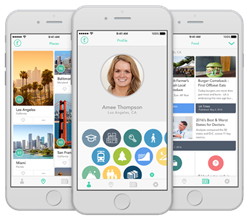 Our data has shown that 'where' matters significantly as an indicator for success and happiness. --Sarah Linden, (To) CEO
Alexandria, VA (PRWEB) November 10, 2016
A new company is providing consumers a mobile app that provides the insights to make informed decisions about the places they decide to live, work and play. The company, (To), is dedicated to helping individuals find where the perfect fit is for their professional aspirations and lifestyle.
Geospatial Information technology has been used for decades by environmental, commercial and governmental organizations for identifying optimal locations for their enterprises and enhancing their business models. The (To) app puts these powerful tools in the hands of those making life transitions in order to drive more informed decisions and put location to their advantage.
"(To) enables consumers to employ what we call 'predictive living,' said CEO and Co-Founder Sarah Linden. "After working in the Geospatial Information space for years I saw the opportunity to take this powerful technology to individuals who are faced with transitions between education, entering the workforce and eventually retiring," said Linden. "Users input their strengths, needs and interests and we provide 'where' the best possibilities exist for them. Our data has shown that 'where' matters significantly as an indicator for success and happiness," said Linden.
Users input information about personal career objectives, style and preferences and are then provided with a series of alternatives that enable the user to explore and evaluate information about their next 'place'. (To) is motivated by the ability to focus on a user's personalized needs, wants and desires and deliver place-based content that is uniquely meaningful, and excites a call to action. (To) recognizes that individuals must balance work, family and personal interests more than ever and 'place' choices help optimize this balance. The (To) app is especially valuable to those in life transitions — job changes, choosing schools, marital status, retirement, etc. Each one of these life passages can represent uncertainty, and (To) lets users explore place and location possibilities with control and confidence.
"We are impressed with how (To) can provide medical students the optimal locations based on their preferences for practice, community, lifestyle, income, region and general population," said Joshua Caulfield, Executive Director of the American Medical Student Association. "(To) can potentially help them find the location best suited for them — saving time and money," said Caulfield.
(To) is especially useful for pre-med students considering where to attend medical school, med students contemplating residency options, residents and fellows entering practice, and even those docs who are considering what retirement might look like. These individuals may want to explore locations that have the best financial conditions to pay back student loans, places that make the most sense based on outdoor activities they enjoy, or locations that have proximity to family members. (To) provides a "Fit" score — a measure of ideal match, for potential locations that will become enhanced through participation and feedback in later versions of the application.
To help medical students envision themselves in a location, (To) can provide relevant information on what is happening in a city or a neighborhood today — all based on the personal preferences of the individual. (To) delivers much more about a location than just facts and figures — it provides a "feel" for the place by describing activities like local medical student meet ups, shopping, social activities, etc.
"We envision (To) as the engine for organizations who would like to be able to deliver location-intelligence to individual members who face a career change, retirement or change in family status. It's an especially valuable tool in today's 'Gig Economy' where temporary positions are common and organizations contract with independent workers for short-term engagements," said Linden.
Over time, (To) intends future versions to provide guidance on a local basis for opportunities and places of interest based on a user's preferences. Useful features like notifying music lovers that they are within a few miles of a local concert that's about to start, or engaging sports enthusiasts through alerts associated with a local cycling event becomes conceivable, desirable and every day. Moving people where they want to be at every transition -- big or small – is where (To) wants to be.
It all points to the significance of how place influences how we experience life and interact with others. The right places create the right personal connections — both in business and lifestyle experiences. "We are convinced that (To) gives you the control and confidence to navigate through your life's journey," said Isaac Manning Co-Founder and Board Chair. "At (To) we really believe where matters."
With headquarters in Alexandria, Virginia, (To) has assembled a team with experience deep in geospatial technology as well as in business strategy. For more information contact Sarah Linden at sarah(at)to-wherematters(dot)com, 724.689.8288. Visit http://www.to-wherematters.com.
Visit us at:
Facebook: https://www.facebook.com/towherematters
Twitter: https://twitter.com/to_wherematters
LinkedIn: https://www.linkedin.com/company/-to-?trk=company_logo​
Instagram: https://www.instagram.com/to_wherematters