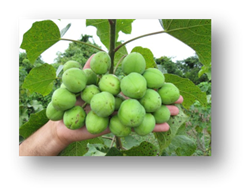 Jatropha BioJet Project is Slated to Fuel a Regional Economic Harvest in Mexico
Houston, Texas (PRWEB) November 01, 2016
The oil and gas industry remains soft and few are investing in it; however, biodiesel and biojet fuels are hot markets.
Petrixo is planning to build an $800 million Honeywell UOP process facility to produce 1 million tons of biojet fuel in UAE. http://www.biodieselmagazine.com/articles/128947/petrixo-to-build-biojet-fuel-refinery-in-uae-using-uop-technology
Monarca is planning a Honeywell UOP facility in the Yucatan of Mexico to produce 30,000 gallons of biojetfuel annually for Mexico's Federal ASA aviation services, and is including a 33,000 hectare Jatropha plantation on site to produce their own low-cost seed oil feed stock for the refinery.
"We have taken a new approach to biojet fuels and had to control the cost and long term supply of seed oil feed stock for the Honeywell refinery we will use. I interviewed agriculture companies from around the world and contracted Michael Chaplinsky, the president of Turf Feeding Systems a Houston company, to lead the agriculture project to grow our own seed oil. He is an expert in irrigation as well as new high yield agriculture and soil health," states Jack Katz the CEO of Monarca, a Mexico City company.
Katz continues, "Michael Chaplinsky sold me on his passion and ability to increase crop production while reducing costs, which no one else talked about in agriculture."
Michael Chaplinsky states, "We brought together a worldwide team of scientists, agronomists, geneticist and engineers to create the most efficient agriculture project in Mexico. My expertise is irrigation, fertigation and soil health, and my key team leader and counterpart is Paul van Jaarsveld a leading agronomist, grower and consultant from South Africa. Van Jaarsveld brings many new agriculture designs and crop management practices to the project and has years of experience designing and creating mega agriculture projects in rural Africa."
"The plantation will be an ongoing research facility always developing new seed oil crops, new agronomic practices and integrating greenhouse and field evaluations with satellite infrared crop scanning. This will create one of the most precision agriculture practices for mega projects on the planet," states Van Jaarsveld.
Van Jaarsveld continues, "The project will focused on high yield seed oil production, and it will produce by-products for livestock feed and food production, which will be secondary incomes. This a perfect project for Mexico with a sustainable balance between the production of green jet fuel and food production for humans and livestock."
Katz continues, "The Yucatan is a very special area in Mexico, with land, water, labor and a rural economy ready to grow and change. The planned to launch, the first of the year, will create a completely new economy in rural Yucatan and will drive millions of dollars into the rural Yucatan economy that needs jobs and a new industry. We will integrate elementary and trade schools as well as a medical clinic into the project complex as a community. We plan to raise the livelihood and the GDP of rural Yucatan and change their future."
Bio:
Mr. Jack Katz is the CEO of Zphere Works, S. de R.L. de C.V headquartered in Mexico City. Mr. Katz has been in the waste to energy business for over 10 years. His background has been focused on integrating government agencies with solutions in waste and environmental issues. He has brought together teams of designs and implementers to structure and install systems that address municipal waste and water quality. Mr. Katz has just launched a municipal waste to energy project for Cancun.
Michael Chaplinsky is the President of Turf Feeding Systems a world leading company in fertigation, headquartered in Houston, Texas. Mr. Chaplinsky has developed new technologies integrating fertigation, new irrigation technologies and special soil treatments to reduce irrigation water up to 50%, reduce fertilizer and chemicals 60% while increasing crop production as much as 50%. Mr. Chaplinsky works and speaks at many agriculture conferences worldwide. He is a world expert in Soil Restoration, Water Efficiency and Sodium Issues in water and soil. He developed a new sustainable agriculture program that restores poor soil and produces higher crop production, while reducing water, fertilizer and chemicals. He states, "The world population has passed 7 billion and will pass 9 billion by 2050; however tillable productive farmland in the world is diminishing. My mission is to restore damaged farmland not bulldoze native forests to increase farmland."
Paul van Jaarsveld, CEO Agri-Projects - As a graduate with hands-on field experience, Paul spent 15 years with International Corporate Management in Boston Mass specializing in international new business development and consulting to the fuel from coal, fossil and nuclear power generating and food manufacturing sectors.
Paul was born and raised within agriculture. He started the manufacturing and trading forerunners of what is today EGOT Agri-ProjectsTM in 1991 as owner. His continued keen interest and passion is in Innovative Mega Agro Designs to integrate new Agriculture Technology and Techniques into multiple income streams for farms with nature to meet the challenge of Food Security and now Bio-Fuel Security.