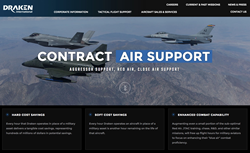 LAKELAND, FL (PRWEB) October 27, 2016
Draken International announced today the launch of its newly redesigned website. This site now offers quick and easy access to essential information and features while offering a more comprehensive understanding of the company's value proposition, services and fleet of aircraft. Users will now have access to updated information on news and press releases, client testimonials, videos as well as management, executive and board of advisor biographies. Those interested in learning more about Draken's fleet of over 80 aircraft can now view the jets and capabilities through a much more interactive experience.  
 
The Draken website has a clean uncluttered design, improved functionality and enhanced rich content. The site focuses on the company's mission to provide the largest, most advanced and capable fleet of ex-military fighter jets in in world to its customers across the globe.  
 
"We are excited about our new website launch and the robust information it provides our current and prospective customers, future employees as well as our global partners," said Sean "Stroker" Gustafson, VP, Business Development of Draken International. "Our website highlights Draken's enormous capacity to support customers across the globe with the only fleet of ex-military jets equipped with 4th generation capabilities."