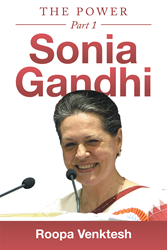 Bangalore, India (PRWEB) October 31, 2016
Written by Roopa Venktesh, "Sonia Gandhi: Part 1 – The Power" serves as a tribute to the extraordinary political career of the book's titular figure.
Sonia Gandhi has been a major player in modern Indian politics and continues to be popular amongst the people of India. As a woman of Italian birth, she has overcome discrimination due to her gender and national origin by becoming a leader of her adopted country and living the principles of equality and fairness for all.
"The purpose of this book is show how all of us can overcome discrimination, hatred, and intolerance," said Venktesh. "My inspiration comes from the determination of Mrs. Sonia Gandhi as she has been a champion against these antisocial forces."
As the widow of former Prime Minister of India Rajiv Gandhi, who was assassinated in 1991, Sonia Gandhi was later elected President of the Indian National Congress party in 1998. She has continued to serve as a leader in various positions with a firm stance on social justice for the people of India.
Venktesh wishes to share the story of Sonia Gandhi with the world to serve as a positive example of the human spirit.
"Sonia Gandhi: Part 1 – The Power"
By Roopa Venktesh
ISBN: 978-1-50499-827-7 (hardcover); 978-1-50499-828-4 (softcover);
978-1-50499-829-1 (eBook)
Available at the Amazon, Barnes & Noble, AuthorHouse
About the author
Roopa Venktesh is a doctor by profession with medical experience in India and the UK. Writing is a new field of pursuit for her. To learn more, visit http://www.roopavenkteshbooksoniagandhi.com.
###
Review Copies & Interview Requests:
LAVIDGE – Phoenix
Bryan Beach
480-998-2600 x 510
bbeach(at)lavidge(dot)com
General Inquiries:
LAVIDGE – Phoenix
Danielle Grobmeier
480-998-2600 x 514
dgrobmeier(at)lavidge(dot)com