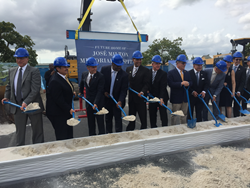 MIAMI, Fla. (PRWEB) October 27, 2016
Jackson Health System, Jose Milton Family Foundation, Robins & Morton, Perkins + Will and honored guests joined together to officially break ground on the new Jackson West Hospital located in Doral, Florida.
In addition to celebrating the project's initial milestone, the groundbreaking also served as a dedication to the Jose Milton Family Foundation, recognizing their contribution to the facility. There, Jackson Health System announced that the hospital will be named the José Milton Memorial Hospital.
After years of planning, Jackson Health System, the City of Doral and neighborhood residents are excited about the project and believe it will become and anchor in the community and also spur much needed redevelopment. The new facility is designed by Perkins + Will, an architecture firm that is renowned for creating regenerative designs that health their environments, enhancing the quality of life.
The new 210,000-square-foot facility will include a primary and specialty children's clinic, an adult specialty clinic, imaging/diagnostics, an emergency department and a children's ambulatory pavilion.
The new hospital is scheduled to open its doors in late 2019.
###
Contact: Katy Klaproth, Division Marketing Director
(407) 916-7235, kklaproth(at)robinsmorton(dot)com
About Robins & Morton
Founded in 1946, Robins & Morton is a privately held construction firm that consistently ranks among the 100 largest U.S. contractors in Engineering News-Record Magazine and Modern Healthcare's top healthcare contractors. The company has also been named one of the best mid-sized companies to work for in America because of its worker-friendly and family-friendly practices. Robins & Morton is based in Birmingham, Alabama, with offices in Dallas, Texas; Huntsville, Alabama; Orlando and Miami Florida; Nashville, Tennessee; Charlotte, North Carolina. For more information, visit http://www.robinsmorton.com.