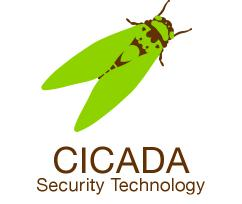 Cicada PDP's integration with Intel Security technologies is an important step in the efforts to extend the scope of data protection technologies to include physical sources of risk.
Montréal, Québec (PRWEB) November 03, 2016
Cicada Security Technology today announces a successfully completed integration of Cicada Physical Data Protection (PDP) with McAfee ePolicy Orchestrator (ePO) and McAfee Data Exchange Layer (DXL), aimed at protecting endpoints compromised due to attempted theft or tampering. Cicada PDP protects active and authenticated laptops, desktops, servers and other endpoint devices by monitoring multiple trigger points and identifying specific actions which are common to physical threats. Once triggered, Cicada PDP responsively invokes protective actions to prevent unintentional data exposure at the precise moment theft or tamper is detected. Cicada's patented PDP technology is the first commercially available solution that allows data privacy focused organizations to extend the capabilities of their protective environments to include risks posed to their mobile work force. The extended capabilities include targeted attacks and human error for both active and authenticated devices.
Cicada Security Technology actively participated in the Intel Security Innovation Alliance to achieve interoperability and has concurrently attained McAfee compatibility with the McAfee DXL framework. McAfee DXL affords Cicada PDP immediate compatibility with other McAfee DXL-compliant vendors by natively delivering physical threat awareness to these respective product platforms with minimal development effort during integration. McAfee DXL provides Cicada PDP a valuable platform which enables the intercommunication of threat event alerts between other security technologies, including physical risk aware encryption, authentication or other protective technologies.
"Cicada PDP's integration with McAfee technologies is an important step in the efforts to extend the scope of data protection technologies. This integration enables those responsible for the delivery of absolute data privacy to not only prevent data exposure on active and authenticated endpoints, but to effectively manage these events in an enterprise environment," said Ryk Edelstein, CEO of Cicada Security Technology.
"We are pleased to add Cicada Security solution to the select list of Technology Partners in the Intel Security Innovation Alliance program," said D.J. Long, head of the Intel Security Innovation Alliance. "We expect our joint solutions to stimulate powerful new workflows for security and compliance, a key goal of the Intel Security Innovation Alliance program."
Cicada's innovative approach to protecting mobile data has gained considerable interest from government, public and private sector clients facing significant challenges in securing an elastic security perimeter. "The Cicada technology addresses real capability gaps, not only in federal civil agencies but also across the Department of Defense and the Intelligence Community." said Dr. Thomas A. Cellucci, Chief Commercialization Office U.S. Department of Homeland Security (Ret.).
Cicada PDP Technology Availability
Founded in 2010, Cicada Security Technology is the worldwide leader in physical threat aware data protection technologies. Cicada PDP Technology is the first of Cicada Security Technology's data protection products. Cicada PDP Technology products are available for immediate purchase at http://www.cicadasecurity.com.
Note: McAfee is a registered trademark of McAfee, Inc. in the United States and other countries. Other names and brands may be claimed as the property of others.
– 30 –
Cicada Security Technology and Cicada PDP Technology are either registered trademarks or trademarks of Cicada Security Technology in the United States and/or other countries.
The names of actual companies and products mentioned herein may be the trademarks of their respective owners.
For more information, press only:
Philip Napier
888-514-2896
press(at)cicadasecurity(dot)com
For more information on Cicada PDP Technology:
http://www.cicadasecurity.com