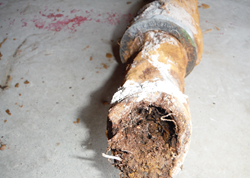 The Greater Dallas, Texas area (PRWEB) October 31, 2016
With the recent surge in sales of pre-existing homes, buyers are increasingly inheriting hidden pipe breaks and pipe leaks.
Examples include:

Separated drain lines
Sewer yard lines with root growth
Gurgling toilets or backing up lines due to sagging pipes
The North Texas area is about to wrap up it's 6th consecutive year of continued sales growth of pre-owned homes (See Dallas Morning News October 22, 2016).
For homes with basements, the majority of the drain lines are exposed in the basement and leaks are obvious. For homes built on a concrete slab foundation, drain line breaks can go unnoticed until they cause the foundation to shift or they cause back ups to occur in the home. History of these problems may not necessarily be disclosed by sellers or sellers may be unaware. Regardless, it can be very expensive to correct broken or defective buried drain lines. In general, homes built prior to the late 1970's have a greater risk of this becoming a problem due to cast iron pipe used in this era. Subsequent to the late 1970's, residential drain lines were generally composed of non-metallic pipes such as PVC and ABS. These lines do not rust or deteriorate like cast iron pipes.
When a home is being purchased, a Property Inspector may discover most pipe leaks, but buried leaking pipes under a concrete slab foundation or in a yard may not be identified without:

Video pipe inspection and
Static drain line testing
Home buyers should call a reliable plumber who can perform video pipe inspections and static drain testing before they inherit someone else's headache!
See examples of typical equipment and video images at http://www.hmcplumbing.com.
Call us at 972-960-9996 if you want to schedule an inspection and plumbing leak test before you buy a home in North Texas.