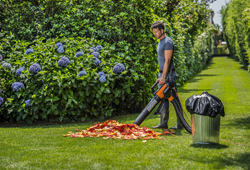 Charlotte, N.C. (PRWEB) October 27, 2016
The new WORX® TURBINEFUSION™ Blower/Mulcher/Bagger has a two- stage metal impeller system that produces an industry-leading 24-to-1 mulch ratio and a whopping 525 cfm rating to herd leaves without lifting a rake. Couple this combination blower/vac with the new WORX LeafPro High Capacity Collection System adapter, and yard waste quickly become a thing of the past.
What makes TURBINEFUSION unique is its axial fan technology. It moves air freely across the axial fan to a maximum air velocity of 525 (cfm). The combination blower/ vac's two-speed control provides a gentle breeze option when working in sensitive areas or full volume to move stubborn, even wet leaves and yard debris in a hurry.
The two-stage mulching system begins with a high-velocity metal shredder blade that shreds debris before entering stage two, which pulverizes it into fine mulch.
WORX LeafPro™ Universal Collection System is available as an optional accessory. Instead of using TURBINEFUSION's collection bag, connect the LeafPro attachment. This adapter and 4 in. hose is 8 ft. in length, with a total diameter reach of 16 ft. One end of the hose fastens to the vac, while the other end feeds through a circular, elastic nylon cover. This elastic cover is designed to fit snugly over the rim of 32-96 gallon outdoor waste containers. When the vac is turned on, instead of funneling into the collection bag, debris winds its way through the hose and into the waste container.
Massive leaf piles are quickly eliminated as they travel through the hose and into the container for easy disposal. The fine mulch can then be transferred to garden beds, compost bins or curbside for pickup.
The WORX TURBINEFUSION is one of the only blower/mulcher/baggers on the market that requires no tools or kits to convert from blower to mulcher/vac. Just quickly attach the zipper-free leaf collection bag. Once the collection bag is attached, the 2-stage mulching system goes to work. The fine mulch is directed into the vac's .75 bushel collection bag, or channeled into a waste container, using the optional WORX LeafPro Universal Collection System.
The 9.7 lb. blower/mulcher/bagger is constructed of high-impact nylon composite and is ergonomically designed for single-handed operation. It features a soft-grip comfort handle to help reduce fatigue. The vac's 12-amp motor operates on standard 120-volt current and can utilized outdoor-rated 12-amp extension cords up to 100 ft.
The WORX TURBINEFUSION Blower/Mulcher/Bagger (WG510, $89.99) is available at http://www.worx.com and online retailers including Walmart and Amazon. It's backed by the WORX 3 year warranty.
The WORX LeafPro Universal Collection System for TURBINEFUSION (WA4057, $39.99) is available at http://www.worx.com.
# # #
To reach out to WORX social media links visit: Facebook: https://www.facebook.com/worxus?ref=hl; Twitter: https://twitter.com/WORXTools;
Pinterest: http://pinterest.com/worxtools and Instagram: @WORXTools