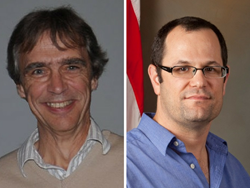 Yorba Linda, Ca (PRWEB) October 27, 2016
Application of the amplicon panels to Coho and Chinook Salmon from hatchery populations in southern British Columbia has indicated substantial differentiation among populations, as well as differentiation among brood years and individuals within hatcheries. Amplicon sequencing will be the routine method of choice for Coho and Chinook Salmon stock identification in British Columbia in the near future, as high-resolution estimates of stock composition, age, and family structure will be available.
This webinar will also describe the single nucleotide polymorphism (SNP) content of Axiom™ Trout Genotyping Array. Discussion will follow on various research applications, including the use of genomic selection for important economic traits like disease resistance; genome-wide association studies (GWAS); and the generation of a dense genetic linkage map for the trout reference genome.
Thermo Fisher Scientific will sponsor a free webinar on the genetics of aquaculture, where researchers will share their analysis of trout and salmon using microarrays and genotyping by sequencing to advance their research and molecular and management programs.
There will be two speakers for this webinar; Dr. Terry Beacham, research scientist for Fisheries and Oceans Canada, and Dr. Yniv Palti, a research geneticist with the US Department of Agriculture (USDA), Agriculture Research Service.
Beacham holds a doctorate degree from the University of British Columbia and has been a research scientist in Fisheries and Oceans Canada for nearly 40 years. He currently serves as head of stock identification research within the Molecular Genetics Laboratory, and has examined genetic variation to evaluate population structure and associated stock identification applications across a range of Pacific salmon species. His current focus is to evaluate and apply parentage-based tagging and genetic stock identification techniques for Chinook and Coho Salmon in British Columbia, particularly for hatchery populations.
Palti holds a doctorate in genetics and cell biology from Washington State University and currently holds the positions of a research geneticist and lead scientist of the Genetics, Physiology and Genomics unit at the National Center for Cool and Cold Water Aquaculture (NCCCWA), Agricultural Research Service, USDA. The major focus of Palti's current research is aimed at developing and evaluating strategies for genome-enabled selection in traits that cannot be measured directly on potential breeders in rainbow trout aquaculture.
LabRoots with host the event November 8, 2016, beginning at 10:00 a.m. PT, 1:00 p.m. ET. For more details on this webinar or to register for free, click here.
About Thermo Fisher Scientific
Thermo Fisher Scientific Inc. is the world leader in serving science, with revenues of $17 billion and more than 50,000 employees in 50 countries. Our mission is to enable our customers to make the world healthier, cleaner and safer. We help our customers accelerate life sciences research, solve complex analytical challenges, improve patient diagnostics and increase laboratory productivity. Through our premier brands – Thermo Scientific, Applied Biosystems, Invitrogen, Fisher Scientific and Unity Lab Services – we offer an unmatched combination of innovative technologies, purchasing convenience and comprehensive support. For more information, please visit http://www.thermofisher.com.
About LabRoots
LabRoots is the leading scientific social networking website and producer of educational virtual events and webinars. Contributing to the advancement of science through content sharing capabilities, LabRoots is a powerful advocate in amplifying global networks and communities. Founded in 2008, LabRoots emphasizes digital innovation in scientific collaboration and learning, and is a primary source for current scientific news, webinars, virtual conferences, and more. LabRoots has grown into the world's largest series of virtual events within the Life Sciences and Clinical Diagnostics community.