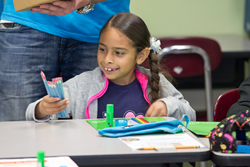 Under this program, every time a member or staffer from Arizona Federal buys a Yoobi school supply item at yoobi.com, Yoobi will donate an item to a classroom in need.
Phoenix, AZ (PRWEB) October 28, 2016
Arizona Federal and Yoobi, a school supply company that makes learning fun, have teamed up to provide school supplies and financial literacy kits to underprivileged schools in the community, fueled by exclusive member discounts.
Under this program, every time a member or staffer from Arizona Federal buys a Yoobi school supply item at yoobi.com, Yoobi will donate an item to a classroom in need. Those items are bundled into Classroom Packs and provided to the area schools that will benefit most, as determined through Yoobi's collaboration with the Kids in Need Foundation. Each classroom will also receive a Financial Literacy Teaching Kit that will share the fundamentals every student should know about money and how to manage it responsibly.
"We're excited to introduce this partnership to our members," said Ronald Westad, chief executive officer and president of Arizona Federal Credit Union. "As a local cooperative, we have a responsibility to help the community around us grow. Through Yoobi, our members will have the chance to do just that simply by purchasing the supplies they normally would at another retailer."
Arizona Federal is one of the first credit unions to take part in this national program with Yoobi, which was organized by CO-OP Financial Services, a Rancho Cucamonga, California-based financial technology company. CO-OP Purpose programs for credit unions also include CO-OP Miracle Match, a matching funds program that support Children's Miracle Network Hospitals.
"Almost all elementary school teachers pay close to $500 a year for classroom supplies out of their own pockets," said Samantha Paxson, Chief Marketing Officer for CO-OP. "We are excited to be working with Yoobi and credit unions nationwide to encourage financial education at a young age, which will lead to better decisions throughout their lifetime."
Yoobi, which means "one for you, one for me", is committed to the spirit of sharing and community well-being and fits perfectly with the values of Arizona Federal. This inspired Arizona Federal to also partner with Yoobi to offer special savings to its members on supplies for school, home or office purchases through the Yoobi website using an exclusive code.
Yoobi's website features an assortment of more than 450 useful and fun products for school, home or office. These colorful and practical items offer public-spirited credit union members and staff a rewarding opportunity to step up and help less fortunate students in their own backyard.
About Arizona Federal Credit Union
Arizona Federal is a $1.3 billion not-for-profit financial cooperative providing financial services and expertise to more than 120,000 member/owners. Founded in 1936, the organization takes its mission of financial empowerment and mutual benefit to heart by providing members cutting-edge self-service tools, financial coaches, identity protection services, and annual member payouts when the cooperative does well. Arizona Federal has locations across the Phoenix metropolitan area. Deposits are insured by the National Credit Union Administration.
About Yoobi
Yoobi is a colorful and vibrant school supply brand that makes learning fun while also giving back. Yoobi means "one for you. one for me" – for every Yoobi item you buy, a Yoobi item is donated to a classroom in need right here in the U.S. It's that simple!
About CO-OP Financial Services
CO-OP Financial Services is a financial technology company that supports 3,500 credit unions and 60 million members by providing a cutting-edge suite of customizable tools and services. The company was the first in its industry to merge purpose, innovation and technology to help credit unions advance the industry mission of people helping people. To learn more visit CO-OPfs.org.
CONTACT:
David Kexel
Senior Director of Marketing
Arizona Federal Credit Union
PO Box 60070
Phoenix, AZ 85082-0070
(602) 683-1000
http://www.ArizonaFederal.org