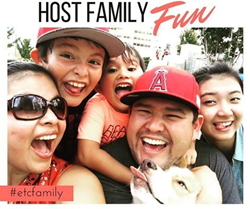 (PRWEB) October 27, 2016
This November, exchange students and organizations all over the world will celebrate International Education Week (IEW). In 2000, The U.S. Department of State and U.S. Department of Education created this opportunity to recognize and promote student exchange and international education. Education, Travel & Culture's students participate by collaborating with their Local Coordinators, host families, schools, and local communities to share cultural presentations about their home countries. Students tell their personal stories, use visual representations, and discuss topics such as history, government, language, culture, and important political and religious issues. ETC is hosting their 8th Annual IEW Student Contest this year to recognize outstanding service and participation. The first prize winner will receive a free trip to New York City! Video recordings of student submissions and further information is available on the ETC website.
ETC students and staff are also preparing for another international event that will take place November 29th. Giving Tuesday is a global day of giving that is celebrated on the Tuesday following Thanksgiving, Black Friday, and Cyber Monday. It is a movement powered by social media, that encourages and supports a charitable season of giving. ETC is proud to be involved in Giving Tuesday this year, since it is the first organizational-wide service project. Students, staff, and host families in every state will work with a wide-range of local charities to contribute to Giving Tuesday. Charities range from the National Sports Center for the Disabled to Feed My Starving Children. Plans are in the works for food drives, bags for the homeless and adopting families for Thanksgiving. For more information about Giving Tuesday visit http://www.givingtuesday.org
It's almost the new year which means new student arrivals, new host families, and new adventures for everyone involved. Families across the U.S. have an opportunity to host this upcoming year and become part of an international family comprised of millions of host families and students who have participated in student exchange programs. Volunteer host families provide their student with a bed, a place to study, three meals per day and provide students with a window in which to view and understand American life and culture. Students become a member of the family as they participate in family activities and chores, bond with their host siblings, and join in family conversations. After students leave the ETC program, many of them will remain in contact with their host families and will be forever thankful to have created lifelong friendships.
ETC is now accepting host family applications for semester students arriving in January 2017. Every student has been carefully screened, speaks English, attends the host family's local high school, arrives with their own spending money and are covered by full medical insurance.
About Education, Travel & Culture:
Education Travel & Culture is a non-profit [501(c)(3)] educational exchange organization. Its purpose is to promote international understanding and goodwill by providing high quality educational and cultural exchange programs in the United States and abroad. ETC provides inbound program opportunities for high school students throughout the world to study in an American high school and live with an American family.
For more information, FAQs or to apply to become a host family visit http://www.edutrav.org or email Field Director, Brenda Ferland at bferland(at)edutrav.org