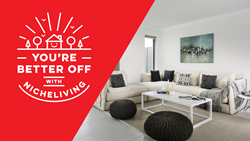 Perth, WA (PRWEB) October 31, 2016
When it comes to Perth property, market commentary would like everyone to believe the sky is falling, but if you take a deep breath and examine the facts, you'll find this isn't the case at all. Yes, some builders and developers throughout Perth are starting to feel the sting of a changing economy. But while others are reducing scale and running scared, Nicheliving is going from strength to strength. In fact, 2017 is tipped to be its biggest year yet.
Over the course of the last six months, Nicheliving has undergone some significant internal changes that have allowed the company to set itself up to thrive in the New Year. Managing Director Paul Bitdorf and Co-Founder & Director Ronnie Elhaj have assumed full ownership of the Nicheliving Group and have implemented many improvements to integrate the business units. Already the results are beginning to show across each arm of the business for clients and Nicheliving team members alike.
Overall, it's Nicheliving's unique, vertically integrated business model and its position as Perth's largest affordable new home and land developer that allows it to continually grow with confidence and expand into new ventures. Unlike other companies throughout Perth, Nicheliving owns the land across all of its sites and handles both the land development and home construction, taking away the need to partner with external companies. This is just one of the reasons why Nicheliving is able to offer such an affordable, quality product, and there will always be demand for affordable housing - even when sentiment is low.
Nicheliving may contain a building arm, but it is not actually a building company. The Group offers a range of other services including property management, finance, real estate and developments. Nicheliving currently has a range of projects reaching completion and several others that are due to be launched in the very near future. In Perth's north, its Madeley and Landsdale projects are roaring along, with Madeley featuring Nicheliving's first ever showcase home. These developments, collectively worth $100 million, are close to being finalised, with a combined total of 207 homes.
As the projects in the north draw towards the finish line, Nicheliving's developments in the south are just getting geared up. Its Hammond Park project, which is comprised of 95 dwellings, has recently been launched into the market, and up next is Waikiki, a boutique beachside estate of 21 homes. Meanwhile in Canning Vale, Nicheliving's $30 million development comprised of 64 homes has achieved presales for stage 1 in order to kick off civil works.
But the major player in Nicheliving's slate of upcoming projects is Willetton; a 5 hectare parcel of land to be subdivided for the creation of 257 homes. This flagship project has an estimated value of $150 million and Nicheliving already has over 100 registrations of interest for the highly sought after location, with the development expected to commence construction in 2017.
Although new home and land is its core product, Nicheliving also participates in low-rise apartment developments. 2016 has seen Nicheliving work on 142 apartments on its own Atwell project, while lending the services and expertise of its construction arm to external developments in Coolbellup, Rockingham and Cannington. On the back of reaching presales, Stage 3 of its Atwell apartments is due to start construction shortly.
Simultaneously, Nicheliving is also providing the services of its construction and real estate arms to other developers, including a house and land development in Armadale, with 17 dwellings completed and a further 13 handovers expected by the end of the year.
The Nicheliving acquisitions team are always on the look-out for new infill sites to add to the group's $500 million property portfolio and currently have proposals for new locations in the pipeline. Nicheliving only develops in well-established areas surrounded by existing infrastructure and follows a strict selection criteria when identifying high performing suburbs to enter, so it will only bid for sites that tick all of its boxes. Nicheliving's continued success across all of its developments demonstrates how affordable homes in infill areas will remain buoyant in any market.
The entire Nicheliving team is excited by what 2017 will bring. From property management, to finance, real estate, projects and construction, each arm of the business is determined to produce the best results. There are very few private property groups in Western Australia performing at a similar level, nor are many as well positioned as Nicheliving, with such a vast number of existing and upcoming sites. Under new leadership, the group is seeking to expand its development portfolio to over $1 billion in the coming years.