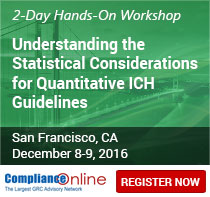 Understanding the Statistical Considerations for Quantitative ICH Guidelines
Palo Alto, CA, USA (PRWEB) October 27, 2016
ComplianceOnline, the leading governance, risk and compliance advisory network with over 500 experts in various regulatory subjects, today announced a seminar on Understanding the Statistical Considerations for Quantitative ICH Guidelines. The two day seminar led by Dr. Al Bartolucci will be held on December 8 and 9, 2016 in San Francisco, CA.
This workshop will introduce the participants to a hands on approach to the different statistical techniques, how they are applied and reasonably interpreted and understood. The seminar will also address the various challenges facing pharmaceutical and biotechnology companies when it comes to quantifying results in a meaningful interpretable manner through tabulations and graphical presentations.
For more information or to register for the seminar, please click here.
Speaker Dr. Al Bartolucci is Emeritus Professor of Biostatistics at the University of Alabama where he also serves as a Senior Scientist at the Center for Metabolic Bone Diseases, AIDS Research Center and Cancer Center. His teaching experience includes areas such as clinical trials, survival analysis, multivariate analysis, regression techniques, environmental/industrial hygiene sampling and analysis, Bayesian statistics, and longitudinal data analysis.
This course is designed for personnel responsible for developing, maintaining and improving clinical and laboratory monitoring programs. It will be beneficial for quality managers, assay development scientists, research scientists, clinical/laboratory data analysts and laboratory data managers.
Date: Thursday, December 8, 2016 (8.30 AM- 4.30 PM) and Friday, December 9, 2016 (8.30 AM- 4.30 PM)
Location: San Francisco, CA
Registration Cost: $1,899.00 per registration
Early bird discounts: For discounts on early registrations, please click here.
Register by phone: Please call our customer service specialists at +1-888-717-2436 or email to customercare(at)complianceonline(dot)com
For more information on ComplianceOnline or to browse through our trainings, please visit our website.
About ComplianceOnline:
ComplianceOnline is a leading provider of regulatory compliance trainings for companies and professionals in regulated industries. ComplianceOnline has successfully trained over 35,000 professionals from 9,000 companies to comply with the requirements of regulatory agencies. ComplianceOnline is headquartered in Palo Alto, California and can be reached at http://www.complianceonline.com. ComplianceOnline is a MetricStream portal. MetricStream (http://www.metricstream.com) is a market leader in Enterprise-wide Governance, Risk, Compliance (GRC) and Quality Management Solutions for global corporations.
For more information please contact:
A Reuben Bernard
Associate Director - ComplianceOnline
2479 East Bayshore Road, Suite 200
Palo Alto, CA, USA, 94303
Phone - +1-650-238-9656 | +1-888-717-2436
Fax - 650-963-2556
Mail: reuben(at)complianceonline(dot)com
Website: http://www.complianceonline.com