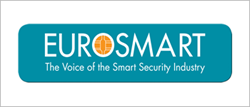 "The latest DDoS attacks in the United States raise serious concerns about cybersecurity. It is imperative to protect the IoT ecosystem and consequently the whole business use of the internet," said Stéfane Mouille, Vice-president of Eurosmart
Brussels (PRWEB) October 28, 2016
Eurosmart, the association representing the digital security industry, is calling for a European cybersecurity enforcement framework, including the promotion of a European Internet of Things (IoT) trust label and security certification. "The latest Distributed Denial of Service (DDoS) attacks in the United States raise serious concerns about cybersecurity. It is imperative to protect the IoT ecosystem and consequently the whole business use of the internet. We count on the newly created European Cyber Security Organisation ESCO to provide an IoT security standard that will be deployed across Europe", said Stéfane Mouille, Vice-president of Eurosmart.
Eurosmart advocates a cybersecurity trust label or security certificate for every IoT provider, covering not only the data as such but also the network IoT providers are using. In order to meet the challenge and to best contribute to a secure IoT, also and especially as a member of the ECSO, Eurosmart has drawn on the expertise of its members and established a new committee, the IoT committee. Stefane Mouille: "The increasing number of security breaches and hacks of internet service providers show that cybersecurity is imperative to protect both private and public data. By now, the gateway for hackers is often an IoT application as these are increasingly connected to other applications and networks and often not very well protected yet."
Eurosmart's IoT Security Committee has several objectives

provide suppliers with a self-assessment methodology to evaluate the risk their devices are facing;
propose a portfolio of secure solutions tailored to individual risks
work closely with the European Commission to implement an IoT trust label that can easily and conveniently be implemented by end-users.
The first results of the Eurosmart IoT Committee will be presented at the next Trustech in Cannes.
"Smart cards, secure elements and smart devices have demonstrated over the last 25 years that they offer the right mix of security and convenience. They prevent security breaches and protect data and privacy at every step, from the authentication, to IoT applications and networks to cloud servers", explained Stefane Mouille.
About Eurosmart
Eurosmart is an international non-profit association located in Brussels and representing the Smart Security Industry for multisector applications. Founded in 1995, the association is committed to expanding the world's Smart Secure Devices market, developing Smart Security standards and continuously improving the quality of security applications.
Members are manufacturers of smart cards, semiconductors, terminals, equipment for smart cards system integrators, application developers and issuers who work in dedicated working groups (security, electronic identity, communication, marketing).
Members are largely involved in research and development projects at the European and international levels.
Eurosmart members are companies (Gemalto, Giesecke & Devrient, GS TAG, Imprimerie Nationale, Infineon Technologies, Inside Secure, Linxens, Nedcard, NXP Semiconductors, Oberthur, +ID, Real Casa de la Moneda, Safran Identity and Security, Samsung, Sanoïa STMicroelectronics, Toshiba and Trusted Objects), laboratories (CEALETI), research organisations (Fraunhofer AISEC), associations (Smart Payment Association, Mobismart, Danish Biometrics).
Eurosmart is acknowledged as representing "the Voice of the Smart Security Industry". For more information, please visit http://www.eurosmart.com