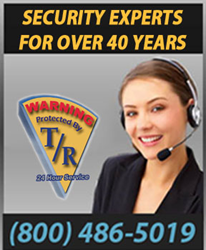 (PRWEB) October 29, 2016
The introduction of the Chubb lock in 1818 started an arms race of sorts to provide bigger and better protection. Since then, locks have become bullet proof, freeze resistant, and fireproof in an effort to become more secure. Entire security and alarm systems have spawned, using high-tech thermal tracking, security cameras, and more. Today these systems are still developing as new technology emerges.
In recent years, cameras have been included in most technological advances. This theme has been taken to a new extreme as tech advances to create smaller cameras. Today consumers can buy a range of products from camera doorbells, to light bulbs, and even drones. This new ability to place cameras in many places causes concerns over efficiency. After all, if a security system can cover an entire field with three cameras instead of six, then massive funds are saved.
A new technique called a 'virtual network approach' has risen to solve this issue of camera placement. The technique allows security management to select the most efficient spots for cameras. As a side benefit, users of this method can easily search through footage by location, allowing a higher level of efficiency.
Advancing technology has also led to the development of smart locks. These locks can be voice activated and/or feature a touchscreen keypad for entering a combo code. Consumers can now unlock smart locks from a smartphone app, merging convenience and security.
Another new advancement in the security industry is T&R Alarm Systems ability to offer carbon monoxide detection systems for commercial buildings connected to a central monitoring station. This technological advancement is yet another leap forward in improved safety and since its inception has become a requirement for commercial property owners to have in order to stay up to code. With innovations like these constantly evolving and quickly being adapted by consumers, only time will tell what the future of security systems looks like in this technology-enabled world.
T&R Alarm Systems Inc. is one of the largest security system companies in the Tri-State area specializing in fire, security, surveillance systems, and more. For the past 40 years, the skilled and experience security personal at T&R Alarm have become a formidable force in the security systems industry working with government agencies and earning recognition as one of the top 100 integrators in the United States. T&R Alarm has the necessary skills and equipment to build custom security solutions to match the needs and budget of property owners across the nation. For more information, call T&R Alarm Systems at (800) 486-5019.