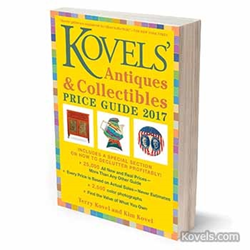 Cleveland, Ohio (PRWEB) October 28, 2016
The all-new Kovels on Antiques & Collectibles Price Guide 2017 has just hit bookstores. Along with its 25,000 prices and 2,500 pictures of antiques and collectibles from the past year's auctions, shows, shops and flea markets, Kovels' 2017 book has an entirely new and informative special section, "How to Declutter Profitably."
"Declutter" seems to be the word of the year, and much has been written about how to remove clutter from a house. But for a collector, declutter is different. Kovels' prices plus "How to Declutter Profitably" helps collectors, their heirs—indeed anyone who has to downsize, relocate or settle an estate—research how and where to sell collections.
Kovels' new special section explains how to set reasonable rules for sorting, keeping and eliminating. Auctions are changing and some changes make it harder to sell collections. Auctions specialize. There are sales of only bottles, toys, Southern pottery, Heisey glass, guns, Asian art, comics, sports memorabilia, silver, decoys, dolls, folk art, contemporary glass sculpture or pottery, and Midcentury Modern. Often there are price limits and sometimes lower limits for specialty sales. And transportation, catalog if any, reserve prices, and commission rates have to be negotiated. Hire help? Have a house sale?
There are many ways to solve these problems and they all take time, work, information and the prices found in Kovels' price guide. "How to Declutter Profitably" covers places to sell, what sells high, what is out of style and what sellers need to know about selling online. Also included are lists of auctions, online antiques malls, and websites that specialize in particular antiques and collectibles, as well as club publications that accept "wanted" and "for sale" ads.
"How to Declutter Profitably" is available only as part of Kovels' Antiques & Collectibles Price Guide 2017. It's the perfect companion to the 25,000 prices that suggest the right price to ask—or pay. Kovels' 2017 price guide is a valuable resource to help "antiquers" make wise decisions about collections and is available now at KovelsOnlineStore.com and bookstores.
Terry Kovel is America's foremost authority on antiques and collectibles. She is the well-known columnist and author of more than 100 books on antiques and collecting. With her daughter, Kim Kovel, she co-authors the best-selling annual Kovels' Antiques and Collectibles Price Guide. The 2016 edition is now available at Kovelsonlinestore.com and local bookstores. They will discuss antiques and collectibles topics with accredited media. Photographs are available. Contact pr(at)kovels(dot)com.
About Kovels.com
Kovels.com, created by Terry Kovel and Kim Kovel, provides collectors and researchers with up-to-date and accurate information on antiques and collectibles. The company was founded in 1953 by Terry Kovel and her late husband, Ralph. Since then, the Kovels have written some of America's most popular books and articles about antiques, including the best-selling Kovels' Antiques and Collectibles Price Guide, now in its 49th edition. The website, Kovels.com, online since 1998, offers more than a million free prices, and includes a free weekly email, "Kovels Komments." It gives readers a bird's-eye view of the market through the latest news, auction reports, a Marks Dictionary, readers' questions and answers and much more.
Contact Information:
Liz Lillis
216.752.2252
Pr(at)kovels(dot)com