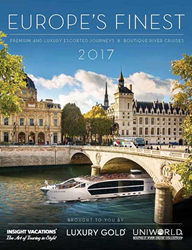 Make 2017 the year you experience the true magnificence of Europe.
DELRAY BEACH, Fla. (PRWEB) October 27, 2016
Insight Vacations®, Luxury Gold®, and Uniworld Boutique River Cruise Collection® are pleased to announce their new 2017 "Europe's Finest" collection of itineraries. Building off of its incredible inaugural success in 2016, this collection represents the collaboration of three distinct brands – each the finest in its field – seamlessly delivering guests to Europe's most exquisite attractions by river and land. Featuring eight extraordinary itineraries, including two all-new journeys to France and the Dalmatian Riviera, guests can expect nothing but the best with "Europe's Finest."
"At Insight Vacations and Luxury Gold, we are passionate about providing enriching travel experiences and the most luxurious European vacations – a passion we share with Uniworld," said Phil Cappelli, president of Insight Vacations and Luxury Gold. "By pairing the world's most renowned boutique river cruises with our award-winning escorted journeys, this unique collection will take guests far beyond the well-trodden path in sophisticated, one-of-a-kind style."
Travelers will visit some of the world's most coveted destinations while enjoying the distinct hallmarks each brand is celebrated for, such as Insight's expert Tour Directors, Luxury Gold's Exclusive VIP Events, and Uniworld's effortless all-inclusive travel.
"We are delighted to offer two new tours for 2017, a result of the great success and popularity of our 2016 collection" said Ellen Bettridge, president and CEO of Uniworld. "Guests on these unrivaled luxury itineraries travel Europe's legendary routes by road, river and rail, immersing themselves in fascinating cultures, authentic regional flavors, and lovely picturesque villages. Travelers on the all-new 'Elegance of England & France' will be among the first guests on our newest Super Ship, the S.S. Joie de Vivre, debuting in 2017."
The "Europe's Finest" collection includes:

*NEW* Elegance of England & France, 22 days
*NEW* Danube Delights & the Dalmatian Riviera, 24 days
Switzerland & the Rhine, 16 days
Holland, Belgium, Luxembourg & the Rhine, 17 days
Bohemia & the Danube, 17 days
Portugal & the Douro, 18 days
La Serenissima, 22 days
Gems of Italy & the River Po, 16 days
For more information, please visit us at http://www.insightvacations.com, http://www.luxurygoldvacations.com, and http://www.uniworld.com.
For reservations, contact your preferred travel agent or call Insight Vacations at (888) 680-1241.