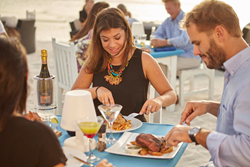 Chapel Hill, NC (PRWEB) October 28, 2016
Divi Resorts recently announced a new website for its flagship restaurant brand, pureocean. Highlighting pureocean's four locations across four Caribbean islands, the new site (http://www.pureoceanrestaurant.com) includes menus, hours, restaurant specials and high-quality photographs of menu items to whet the appetite.
All four pureocean restaurants on Aruba, Barbados, Bonaire and St. Maarten boast sweeping ocean views and fresh, chef-driven cuisine with a Caribbean twist. Divi Resorts guests and members of the public can relax and enjoy an early breakfast by the sea, and at night, they're invited to make a reservation and take in an oceanfront sunset as they dine in some of the most romantic settings in the world.
pureocean restaurants are all headed by talented chefs who have made a global impact in their profession—Executive Chef Anthony de Palm on Aruba, Executive Chef Henderson Butcher on Barbados, Executive Chef Antonio Bruni on Bonaire and Executive Chef Iwan Hokahin on St. Maarten. Each works closely with Regional Executive Chef for Divi Resorts Matt Boland to bring the best cuisine to their respective islands. Biographies of these chefs can be found on the new pureocean website.
The new website also features a tab labeled "Friends of pureocean" in the top right corner. Here, guests of pureocean can sign up for an email newsletter with special offers and updates, as well as a special gift when they dine at a pureocean restaurant within 30 days of their birthday or anniversary.
"We're so excited to help solidify the pureocean brand with a dedicated website," says Regional Executive Chef for Divi Resorts Matt Boland. "It's a great opportunity for guests to explore our restaurants from their home countries. They can even decide what they want to order once they're here on the islands. The chefs and I are thrilled to share pureocean restaurants with the world through our new online presence."
About Divi Resorts
Divi Resorts is the vacation expert of the Caribbean, with a collection of eight premium resorts spanning the five stunning Caribbean islands of Aruba, Barbados, Bonaire, St. Croix, and St. Maarten. With both hotel and vacation ownership options, the resorts provide a multitude of vacation pleasures, from relaxing on white sand beaches and indulging in spa services, to embarking on scuba diving adventures and perfecting one's golf swing. Vacation ownership is available through the Divi Vacation Club, a flexible, points-based product. For more information on Divi Resorts, call 1-800-367-3484 or visit http://www.diviresorts.com. For more information on the Divi Vacation Club, visit http://www.divivacationclub.com. Use of the Divi Resorts registered brand is licensed.