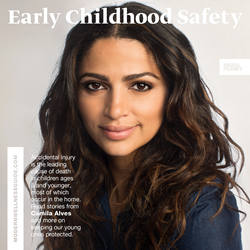 Experiences are different for every family; but what we all have in common is we are trying to do the right thing for our families
(PRWEB) October 27, 2016
Each year, more than 28,000 deaths and nearly 7 million injuries occur as a result of accidents in the home, and around 60% of the victims are children. "Early Childhood Safety" sheds light on the importance of educating and providing tools to families and caregivers alike, to create the safest environment for their little ones.
Camila Alves, mother and co-founder of Yummy Spoonfuls, is featured on the cover of the print campaign. "Experiences are different for every family; but what we all have in common is we are trying to do the right thing for our families." Alves stresses the importance of learning by doing and the safe practices families can teach their kids in the kitchen.
The print component of "Early Childhood Safety" is distributed within the October 27th regional circulation of USA Today, with a circulation of approximately 250,000 copies and an estimated readership of 750,000 within the New York, Los Angeles, Chicago, and Dallas markets. The digital component is distributed nationally, through a cast social media strategy, and across a network of top new sites and partner outlets. To explore the digital version of the campaign, click here.
This edition of "Early Childhood Safety" was made possible with the support of the U.S Consumer Product Safety Commission, ASTM International, Duracell National Safety Council, American Cleaning Institute, National Safety Council, Intertek, American Home Furnishings Alliance, Juvenile Product Manufacturers Association, Window Cover Safety Council, Parents for Window Blind Safety, and First Candle.
About Mediaplanet
Mediaplanet is the leading independent publisher of content-marketing campaigns covering a variety of topics and industries. We turn consumer interest into action by providing readers with motivational editorial, pairing it with relevant advertisers and distributing it within top newspapers and online platforms around the world.