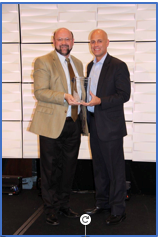 "Carousel's insights, leadership and corporate team of experts have propelled ORU into an elite category of student services through Wi-Fi," said Michael Mathews, ORU's CIO.
Boston, MA (PRWEB) October 27, 2016
Carousel Industries, a leader in communication and network technologies, professional and managed services and cloud solutions, today announced it has received the 2016 Eduventures Innovation of the Year Award along with its client, Oral Roberts University (ORU). This prestigious award was given to ORU and strategic technology partners on October 24 at a ceremony in Boston to recognize creative use of technology to enhance student success at colleges and universities. This program was created to showcase the achievements of individuals and organizations that share Eduventures' vision for generating improved outcomes through innovative programming that supports critical areas of an institution.
Since 2014 Carousel has been a strategic partner to ORU with enterprise-wide networking, Wi-Fi, and educational technologies, leveraging new paradigms to reach the world with ORU's "whole person education." The result of this partnership led to ORU trademarking a new concept called ORU Geovision™ technologies, which have successfully delivered a global vision to reach the world with its award-winning "whole person education."
Carousel has delivered campus-wide innovation to numerous colleges and universities in the past decade, but few have been more exciting and impactful than the development of this world-class initiative at ORU. ORU's Geovision™ technologies started with the concept of simplification and integration by using wearable watch technology, Wi-Fi analytics, telepresence robots with streaming media, state-of-the-art digital classrooms, and augmented and virtual reality. The outcome of this collaborative work produced a streamlined technology ecosystem that allows all global citizens to engage in ORU's digital networked campus as "One Campus," which can transfer education and people around the world at the speed of light through the integrated ORU Geovision™ technology design.
Carousel has collaborated with ORU on this multi-faceted initiative and helped to ensure that students have access to some of most innovative technologies in the world. Among the most impressive achievements that Carousel has helped ORU to attain include an 80 percent retention of its freshman class, the greatest three years of student growth, and a 40 percent efficiency improvement across the university's IT department.
"Without Carousel Industries working side-by-side with ORU during the last two years, it is clear we would have taken twice as long to accomplish this initiative," said Michael Mathews, overall designer of ORU's Geovision™ technologies and ORU's CIO. "Carousel's insights, leadership and corporate team of experts have propelled ORU into an elite category of student services through Wi-Fi. Without Carousel, our wearable watch integration into the education system, telepresence, and Global touch into all the world would not be possible. This prestigious award is evidence that we have picked winning partners like Carousel."
"We are pleased and honored to receive Eduventures 2016 Innovation Award along with our long-time client, Oral Roberts University," said Jim Marsh, Chief Revenue Officer, Carousel. "The 'One Campus' vision developed and implemented by Mike Mathews and his team both locally and globally is truly impressive and has set the gold standard in distance learning. Seeing our services and technologies help expand ORU's reach to educate students globally–using the most advanced tools, including virtual reality, advanced video, and mobile platforms–has been particularly gratifying."
About Eduventures
Eduventures is the leading research and advisory firm focused exclusively on analyzing the forces that are transforming higher education.
About Oral Roberts University (ORU)
ORU offers more than 65 undergraduate majors, as well as 14 master's-level programs and two doctoral degrees. Faculty members educated at the nation's top graduate schools serve as academic, professional and spiritual mentors to students.
ORU continues to redefine what it means to be a leading Christian university by embracing a globalized format at home and abroad. The Tulsa campus is home to students from all 50 U.S. states and 90 international countries. ORU and its students also deliver the Whole Person distinctive to all inhabited regions through distance learning, study abroad, educational partnerships, missions and outreach work, all anchored in a Christian worldview via http://www.oru.edu.
About Carousel Industries
Carousel Industries is a recognized leader in helping organizations evolve the way they communicate and orchestrate the flow of information throughout their networks. Carousel enables clients to connect and collaborate the way modern IT users demand and advance from their current network infrastructure to meet tomorrow's standards. With deep expertise across a vast portfolio of communication, network, and security technologies, Carousel is able to design, implement, and support solutions tailored to meet the unique needs of each customer. By offering professional and managed services with flexible deployments in the cloud, Carousel ensures clients achieve agility and utilize technologies in the way most effective for their business.
Founded in 1992, Carousel serves more than 6,000 customers, including 35 of the Fortune 100. Carousel has been recognized by multiple publications and industry consortiums as a top technology integrator, managed services and cloud solution provider – including the Inc. 500/5000, Healthcare Informatics 100, and CRN MSP Elite 150. Headquartered in Exeter, RI, Carousel has more than 1,400 employees based in 27 offices - with three Network Operating Centers nationwide.