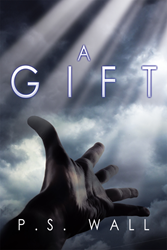 NEW SOUTH WALES, Australia (PRWEB) November 07, 2016
Peter Wall, who writes under the pen name of P.S. Wall, wrote a new novel, which is also the first in its series. Wall's dramatic life encounters and his interest in writing inspired the story line and reoccurring themes in "A Gift."
The fictional suspense novel explores societal themes such as addiction, crime and religion. Having seen and experienced the harmful impact of drug addiction, Wall highlights the betrayal of drug use hoping to draw attention to how it can negatively affect one's life.
"If just one young reader can see the portrayal of drug use and it turns them away from wanting to try any form of drugs then writing this novel has been worth it," Wall said. "The only hope of combating the use of drugs is through educating our youth against it."
In "A Gift," Derek Jones begins his 25th birthday in an unexpected way as he discovers his new
supernatural ability of premonition. Jones is forced to take matters into his own hands as he begins to suspect evil doings.
Jones' mind is the least of his worries as his story is far from over. "A Gift" sets the stage for a continuation of supernatural mysteries in the second book of the series, "A Power."
"A Gift"
By P.S. Wall
ISBN: 978-1-49902-356-5 (sc); 978-1-49902-358-9 (hc); 978-1-49902-361-9 (electronic)
Available on: Amazon and Xlibris
About the author
Peter Wall is a semi-retired author and web editor. He received a degree in literature and comprehension from Griffith University in South East Queensland. Wall is passionate about preserving the environment and enjoys spending time with his children.
Review Copies & Interview Requests:
LAVIDGE - Phoenix
Courtney Coombes
480-998-2600 x 612
ccoombes(at)lavidge(dot)com
General Inquiries:
LAVIDGE - Phoenix
Maggie Driver
480-998-2600 x 584
mdriver(at)lavidge(dot)com