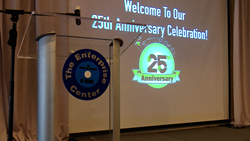 "It takes a village and many of the people that have been a part of Parmetech's journey for the first 25 years were present last night to help us celebrate."
Philadelphia, PA (PRWEB) October 28, 2016
On Tuesday, October 18th Parmetech, Inc. celebrated their 25th year in business with employees, key clients, strategic partners, business friends, personal friends and family. The crowd networked, celebrated and played wine and spirit toss!
Ana Fernandez-Parmet, President and CEO, was thrilled with the celebration. "It takes a village and many of the people that have been a part of Parmetech's journey for the first 25 years were present last night to help us celebrate."
The celebration was held at the Enterprise Center at 4548 Market Street in Philadelphia. The Enterprise Center, founded in 1989 by the Wharton Small Business Development Center, "provides access to capital, capacity building, business education and economic development opportunities to high-potential, minority entrepreneurs."
Parmetech has occupied space in the Enterprise Center since May 2016; this office space is a technical and sales office and the team is looking forward to hosting demos and customers at this new satellite office space.
Congratulations to Ana and the entire team at Parmetech! Here's to another 25 years of success!
About Parmetech
Parmetech is a WBE/NMSDC and XPPS/MPS Certified full service consulting firm focused around providing business technology solutions and designing work-flow improvements for their clients. Parmetech's key value proposition is their ability to accurately assess and understand a client's environment and priorities before recommending solutions that are right-sized and optimized for their current and future document management and technology life cycle needs. Parmetech received the 2014 Xerox "Oustanding Managed Print Service (MPS) Execution and Performance" and 2015 XAD Partner of the Year awards. Offices are located in Havertown, PA and Philadelphia, PA. For more information, please visit http://www.parmetech.com