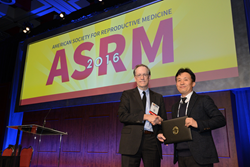 Salt Lake City, Utah (PRWEB) October 28, 2016
This year at the American Society for Reproductive Medicine (ASRM) 2016 Scientific Congress, the coveted First Place Poster Presentation Prize was awarded to the research team comprised of CHA Health Systems scientists from the Department of Biomedical Science of CHA University, the Gangnam CHA Fertility Center, and the CHA Fertility Center at Seoul Station in Seoul, South Korea under the leadership of Youngsok Choi, PhD.
Their research focused on harmful side effects to the ovaries during chemotherapy treatments and uncovered two potential therapeutic agents, ghrelin and melatonin, that have so far shown immense promise in protecting the ovaries and, hence, preserving the fertility of young female cancer patients. The series of tests began by showing a 50% success rate which quickly leaped to a 70% rate. It is strongly believed that continued work in this area will ultimately lead to 100% ovarian protection and fertility preservation.
"Preserving fertility when undergoing chemotherapy is very important for young people," says Dr. Choi. "There are several ways to preserve fertility like tissue cryopreservation, oocyte bank, and such for adult women. But my focus is on younger girls, adolescents whom have no way to preserve their fertility currently except through tissue cryopreservation. If we protect their ovarian reserve from burning out from cancer treatment chemicals, it would be wonderful for that kind of patient in the future."
Dr. Youngsok Choi's study was a continuation of his previous research, which also won the First Place Poster Presentation Award at the ASRM 2014 Scientific Congress and the Poster Presentation Award at the 2015 Pacific Society for Reproductive Medicine Conference (PSRM).
CHA Health Systems is no stranger when it comes to being recognized and receiving prestigious honors from the scientific community. In addition to many accolades for research papers focusing on a variety of health concerns and interests, over the past 55 years CHA Health Systems has also been gratefully acknowledged for many other contributions and actions performed by the both the health network as well as many of its individuals, most especially founder and chairman of CHA Health Systems, Dr. Kwang Yul Cha. As recently as 2014, Dr. Kwang Yul Cha was twice honored for his lifelong dedication to his work when he received the Hollywood Hero Award from the Hollywood Chamber of Commerce and the Global Creative Economy Grand Prize by the L.A. Times and Korea Daily.
CHA Health Systems began its operations in 1960 and has experienced tremendous success and growth over the last half century. Today, this global biomedical network is proud to be composed of 15 hospitals and clinics, as well as 27 research and academic institutions and 20 health-related companies with approximately 8,000 employees committed to converting important and lifesaving research projects into positive and effective medical practices that improve the lives of millions around the entire world.
"[Our founder's vision] is not easy," remarks Dr. Choi, "but we are working to realize the 'bench-to-bedside' dream so that one day we can apply our research to the clinical situation. Then, we can one day overcome certain kinds of infertility based on impairment of germ cell formation."
You can learn more about CHA Health Systems' research and accolades by visiting their website at http://en.chamc.co.kr/.