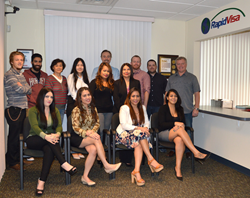 Las Vegas makes a lot of sense for us from a business perspective.
(PRWEB) October 27, 2016
RapidVisa, an online immigrant visa processor, has announced it has opened its new headquarters in Chinatown, Las Vegas. The new office is located on the first floor of 6145 Spring Mountain Road.
The company relocated to Nevada from Colorado due to Nevada's favorable regulations in the document preparation industry. In addition to the employees who relocated to Las Vegas from Colorado Springs, the company has hired and is continuing to hire to fill positions in its assembly and sales departments.
"Las Vegas makes a lot of sense for us from a business perspective," says Ben Ives, the company's founder and president. "In addition to the state's sensible document preparation regulations and lack of state income tax, Vegas is a vibrant city with a large immigrant population and has reasonable airfare to just about anywhere we need to travel," says Ives. Over 50% of RapidVisa's customer base are Filipinos, which is expected to lead to more business and networking opportunities among the over 100,000 Filipinos who call Las Vegas home.
The new headquarters is over triple the size of its former Colorado Springs headquarters, to accommodate current and future growth. The company has grown each year since its founding, and was featured in the 2016 Inc 5000 list at #1413, with a growth rate of 271%. "We always think we have enough space but this is the fourth time the company has relocated its headquarters," says Marketing Manager Kyle Marvin. "It wouldn't surprise me if we need to take over the rest of this building in a couple years," says Marvin.
People interested in RapidVisa's services can go to rapidvisa.com or call 800-872-1458. Las Vegas locals interested in working for RapidVisa are encouraged to submit resumes to rapidvisa.com/careers.
About RapidVisa, Inc.
Since its founding in 2006, RapidVisa has helped over 23,000 people from over 170 countries file their visa and green card petitions. With offices in the United States, China and the Philippines, RapidVisa offers full-service phone, chat and walk-in support 7 days a week and boasts a 99.7% visa approval rate.
Contact:
Kyle Marvin, Marketing Manager, RapidVisa, Inc.
kyle(at)rapidvisa.com
719.208.7033