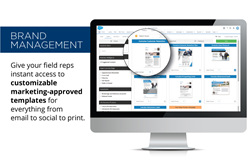 "PMC empowers the rep on the ground to do their marketing the way it needs to be done, while still being brand and regulatory compliant."
Livingston, MT (PRWEB) October 28, 2016
PFL today announced it has launched the Personal Marketing Center (PMC) on the Salesforce AppExchange, empowering client advisors, agents, brokers and reps in entirely new ways. With the PMC app, PFL is re-inventing the way Salesforce customers in regulatory environments enable their distributed sales forces. PMC offers sales to service transparency by combining Sales and Marketing Cloud under one platform to empower field reps to personalize, manage and execute their own distributed marketing journeys. The assets they use are locked by marketing, so the message is always on-brand and legally compliant. As a result, field reps will not only save time, but will be able to provide a more high-touch service, improving client satisfaction.
PMC provides a single source for all of your marketing materials – digital, print and direct mail – right inside of Salesforce.
Built on the Salesforce App Cloud, PMC is currently available on the AppExchange here.
PMC Key Features
Brand Compliance - Give your field reps instant access to customizable marketing-approved templates for everything from email to social to print.
Personalization - Enable field reps to add personal info, custom messaging, change nurture stream cadence and more.
Visibility - Have full insight into field rep activity and customer journeys.
Single Resource - PMC sits natively within Sales Cloud and is fully integrated with Marketing Cloud.
Comments on the News

"We've seen countless companies with distributed sales forces struggle with sales enablement. Corporate marketing wants control of the brand message and visibility into field marketing, and field marketers want to be able to personalize their customer journeys," said Andrew Field, CEO at PFL. "PMC empowers the rep on the ground to do their marketing the way it needs to be done, while still being brand and regulatory compliant."
"Companies are looking to transform the way they connect with clients to thrive in the age of the customer," said Todd Surdey, SVP, ISV Sales, Salesforce. "By leveraging the power of the Salesforce App Cloud, PFL provides customers in highly regulated environments with an exciting new way to deliver a more personalized cross-channel service and effectively acquire and retain clients."
About Salesforce AppExchange
Salesforce AppExchange is the world's leading enterprise apps marketplace that empowers companies to sell, service, market and engage in entirely new ways. With 3,000 partner apps and more than 4 million customer installs, it is the most comprehensive source of cloud, mobile, social, IoT and data science technologies for businesses.
Salesforce, App Cloud, AppExchange and others are among the trademarks of salesforce.com, inc.
About PFL
PFL is a marketing technology company that provides sales enablement and marketing automation solutions, as well as printing, mailing and fulfillment services. We directly connect B2C and B2B organizations to solutions that accelerate productivity and drive business forward. PFL's other AppExchange apps include SwagIQ for Sales Cloud and Tactile Marketing Automation for Sales Cloud and Marketing Cloud. Learn more about PMC at http://www.pfl.com/PMC.