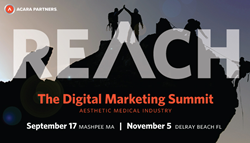 Branford, CT (PRWEB) November 01, 2016
Acara Partners is excited to add TouchMD as a Lead Level Sponsor for the REACH Digital Marketing Summit that will be held on November 5th in Delray Beach, FL.
TouchMD is an interactive and visual tool that assists in the consultative process for plastic surgery, cosmetic dermatologists, medspas, and aesthetic medical practices. Patients can re-live the consultation with a personal online portal that summarizes recommended procedures, displays relevant before-and-after photos, and important information about the procedure, practice, and Doctor.
The Acara Partners team encourages any medical marketing professional, doctor, or practice manager to take part in our 2016 REACH Digital Marketing Summit, being held on November 5th in Delray Beach, FL. Experts in the field will share how to harness the power of your digital resources through dynamic keynote presentations covering digital content, search engine optimization, social media and web development. Information and registration on the 2016 REACH Digital Marketing Summits may be found at http://www.reachdigitalsummit.com.
About TouchMD
TouchMD is a web portal designed to assist physicians presenting and explaining procedures to patients in the examination room. TouchMD provides PatientNOW with aesthetic practice leads looking for an EMR, PAR™, practice management software system and is a reciprocal relationship. Read more at http://www.patientnow.com/portfolio_item/touchmd.
About Acara Partners
Francis and Colleen Acunzo are recognized pioneers in the medical aesthetics industry. Driven by their passion for success, this entrepreneurial husband-and-wife team applied their years of experience when they co-founded Acara Partners in 2003. Their dedication has established their firm as the industry's quintessential, comprehensive business advisory, marketing, advertising and digital agency.
Acara's team of experts, along with its sister company Reach Beyond Marketing, integrates knowledge of strategic planning, digital marketing, web development, graphic design and social media management to drive growth, revenue and profits for their clients. With an impressive roster of over 165 current and past clients in major cities in most of the 50 states, as well as internationally, Acara Partners is known for helping to lead the impressive medical aesthetics industry growth spurt, as well their ability to double the revenue of many of the businesses they work with.
To learn more, please visit http://www.acarapartners.com.