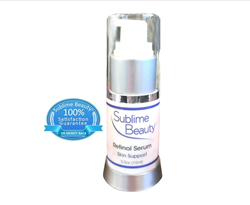 Retinol is commonly listed as the "the magic bulletl" and among top anti-aging ingredients in use today.
St. Petersburg, FL (PRWEB) October 28, 2016
Retinol, a vitamin A derivative, is one of the few ingredients that has been proven clinically to be a superior anti-aging ingredient for skin care. It actually has a Nobel Prize in it's background!
Why do dermatologists recommend Retinol? Here is a summary:
It can reduce wrinkles and fine lines
It can help diminish dark circles and age spots
It can increase the production of collagen (necessary for healthy skin)
It can help smooth out skin texture and increase fullness
It helps to exfoliate and whisk away older, dead cells to make way for new ones
It can also reduce or diminish acne and oily skin (original uses)
It can increase hydration of the skin
It can reduce pore size
Finally, it can help stimulate skin repair
Retinol is commonly listed as the "the magic bulletl" and among top anti-aging ingredients in use today.
Vtamin A is unique because it can act as an antioxidant and it can get deep into the skin thanks to a smaller molecular size. Retinol does not only help the outer skin but penetrates and binds well with receptors to encourage new healthy growth and collagen production. However, Retinol can be harsh on some skins, which can also become more photo-sensitive.
Sublime Beauty® offers an amazing Retinol Serum which is not harsh and which contains moisturizing elements as well as important anti-oxidants The serum contains retinol at 1%, an effective rate, and includes a big bonus: Vitamin C at 5%.
Vitamin C (ascorbic acid) is important in the production of collagen, an anti-oxidant that fights free radicals, encourages collagen, helps give skin strength and firmness - and reverses damage. This is a winning combination - Retinol, Vitamin C and moisturizers for skin!
The Sublime Beauty® Retinol serum goes on smoothly, feels delightful and absorbs well. The serum is paraben-free as well. The serum is also available on Amazon.
About Sublime Beauty®
Sublime Beauty® is an anti-aging skin care company that focuses on quality ingredients and products. Products are paraben free, many contain organic ingredients and all are carefully chosen for discerning clients.