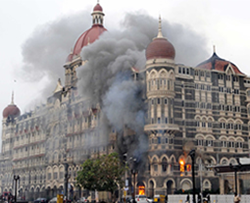 Just to read this inspiring book is to experience love and, not only that, Master Charles gives us simple and practical ways to infuse love into our daily lives. Love is what is needed most when life presents challenging circumstances.
(PRWEB) October 31, 2016
In the Mumbai terrorist attack of 2008, Synchronicity Foundation's Spiritual Director and twenty-five associates were held captive for three days. Two were killed and four seriously injured. In the media aftermath, the survivors expressed compassion and forgiveness, inspiring people all across the world. What has happened since to this community and the non-profit organization that they host?
Throughout the following eight years up to the present, Synchronicity Foundation continues to thrive, sharing the experience of modern spirituality with its increasing world-wide audience via its online platform, as well as programs and retreats at its Nelson County Virginia headquarters.
In response to thousands of inquiries, Master Charles Cannon wrote his well-received book, Forgiving the Unforgivable, detailing the terrorist experience and how they were able to be compassionate and forgiving, which was published in 2011.
To commemorate the anniversary of the Mumbai terrorist experience and to celebrate the launch of his new book, Living An Awakened Life… the Lessons of Love, Synchronicity Foundation for Modern Spirituality will host a special Open House program on Sunday, November 13, 2016 at 2:00pm. Authentic spiritual awakening combines the grace of epiphanies with the rigor of discipline. Serious questers of every kind know and work this balance between inner realization and outer action. Master Charles Cannon's latest provocative book provides guidance for both. His book teaches that the four seasons all have their place in the ongoing tapestry of people's lives, woven together with the cords of love. The book provides weekly guidance into focusing one's consciousness and living love all year.
Master Charles Cannon is a modern spiritual teacher and founder of Synchronicity Foundation for Modern Spirituality. Over the past thirty years he has developed the High-Tech Meditation® and Holistic Lifestyle™ experience. His work has helped transform the lives of millions worldwide who respect him as one of the truly innovative spiritual teachers of our time.
Please contact us if you would like to cover this special event, or schedule an interview with Master Charles Cannon.