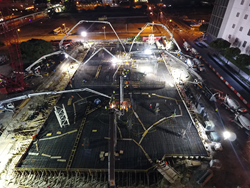 This project is the second largest urban development in the country and Florida's biggest building project ever.
East Setauket, New York (PRWEB) November 07, 2016
PENETRON ADMIX was used to treat key structural elements in the foundation of the Paramount Miami Worldcenter. The monumental multi-day pour of over 14,000 cubic yards (10,705 m3) of concrete launched the initial construction phase of the project.
"We are building America's City of the Future," explains Daniel Kodsi, the Paramount Miami Worldcenter's developer. "Paramount is going to be a significant addition to Miami's skyline. When people arrive, this will be what they see in the center of the city. It's going to signal that you have arrived in downtown Miami."
Set for a grand opening in 2018, the Paramount Miami Worldcenter will comprise seven residential and office buildings, several hotels, including a 1,700-room Marriott Marquis and a new convention center, all laid out along a six-block long shopping and dining promenade in a gigantic retail, residential, business and transportation complex. The signature 60-floor, 700-foot tall (214 m), $500-million residential skyscraper will offer 512 luxury apartments with 10-foot ceilings and private elevators leading to the promenade and a Skydeck on the 60th-floor (with a 360° view of Greater Miami, Miami Beach and Biscayne Bay). Most units have outdoor living room-style terraces. Single bedroom units start at $700,000, and penthouses start at $4 million.
The Paramount Miami Worldcenter will also serve as hub for Miami's MetroMover and MetroRail elevated transit network, adjacent to the new Brightline terminal, a high-speed intrastate railroad connecting Miami, Fort Lauderdale, West Palm Beach and Orlando. Service is expected to start in 2017.
"This project is the second largest urban development in the country and Florida's biggest building project ever," adds Christopher Chen, Director of The PENETRON Group.
According to Supermix, the concrete supplier, pouring the concrete foundations for the Paramount Miami Worldcenter comprised a non-stop loop of 1,300 concrete truck deliveries to the construction site, where over 700 construction workers poured 52-million pounds (23,590,000 kilos) of concrete into a massive 43,000 square foot (3,995 m2), nine-foot (2.75 m) deep excavated hole. The concrete flowed from six boom pumps at a rate of 500 cubic yards (382 m3) per hour. Additionally, crews installed 4.8 million pounds (2,178,000 kilos) of perimeter steel reinforcements.
"In all, the 'big pour' delivered 14,000 cubic yards of concrete to the construction site," adds Mr. Chen. "PENETRON ADMIX will provide permanent protection from any hydrostatic pressures the structures will be exposed to, while preventing corrosion of the embedded reinforcing steel."
The PENETRON Group is a leading manufacturer of specialty construction products for concrete waterproofing, concrete repairs and floor preparation systems. The Group operates through a global network, offering support to the design and construction community through its regional offices, representatives and distribution channels.
For more information on PENETRON waterproofing solutions, please visit penetron(dot)com or Facebook(dot)com/ThePenetronGroup, email CRDept(at)penetron(dot)com, or contact the Corporate Relations Department at 631-941-9700.