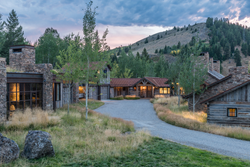 By expanding the process of collaboration …it is extraordinary how close to perfection you can get.
Bozeman, Montana (PRWEB) October 28, 2016
A contemporary homestead crafted by JLF Design Build and perched on a butte in the Teton Mountains proved to be the best example of high country architecture for the judges at Mountain Living magazine. "Our Home of the Year judges fell in love with this project," says Mountain Living Editor in Chief Darla Worden, announcing the residence as winner of the magazine's 22nd Home of the Year award, receiving a cover story in the magazine's just-released November/December 2016 issue.
Designed by the Bozeman-based JLF & Associates, the Jackson, Wyoming, house was crafted through a collaboration of JLF's architectural team of Paul Bertelli, Ashley Sullivan and Tyler Call with Big-D Signature construction, WRJ Design Associates interior design and Verdone Landscape Architects. The turn-key JLF Design Build effort resulted in a house inspired by place and using rustic materials such as timber, stone and Corten steel. Stone and glass are balanced in the framework of a homestead structure for an effect that is at once rooted in history, while punctuated by contemporary influences.
"I have always thought that perfection is elusive and that the joy is in the pursuit of it," says JLF principal Paul Bertelli. "On this Design-Build project, the surprise was that by expanding the process of collaboration to not just the designers and owners, but to everyone – subs, craftspeople, managers, supervisors – it is extraordinary how close to perfection you can get. Thank you, Mountain Living, for recognizing that achievement; it has brought that joy to all of us."
The award is a milestone for the architecture firm, highlighting the strong partnership with construction company Big-D Signature. The two firms work collaboratively as JLF Design Build, creating houses with integrity in relationships with clients, craftsmen and the use of ageless materials in construction. The "Home of the Year" showcases an example of what JLF Design Build vice president Jason Dunlop calls the firm's best work.
"We are just honored to be recognized with this award," says Dunlop. "JLF Design Build has built a lot of houses, but this particular project was a spectacular combination of an incredible building site, a client who was involved on every level and our effort as a team."
Each year Mountain Living magazine invites homeowners, designers, builders and architects of the high country to show off their projects for the Home of the Year Award. This year the judging committee received hundreds of entries from mountain communities in eight U.S. states and British Columbia. The entries were whittled down to just 48 finalists, with the promise that the winner would be featured in the November/December 2016 issue of Mountain Living magazine.
About JLF Design Build:
JLF Design Build has forged a masterful team of established talents, uniting passionate architects with dedicated builders, all to enable the collective imagination of visionary artisans working with visionary clients. JLF Architects and Big-D Signature have delivered almost four decades of expertise through timeless structures rooted in integrity and simple elegance. Based on trust and respect, the JLF Design Build team uses distinctive solutions and materials to build place-based houses marked by the influences of landscapes from the Rocky Mountains to the Eastern Seaboard. Their award-winning perspective is powered by inspired design and an exacting eye for placement, an ethos that stems from a unity of nature, beauty, balance and imagination. For more information on JLF Design Build go to JLFDesignBuild.com.
Contact: Seabring Davis, Word PR + Marketing, seabring(at)wordprmarketing.com, 307.734.5335