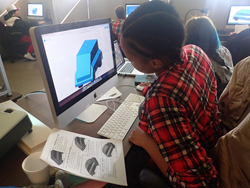 ..the funded grants have the potential to transform learners and the process of learning itself!
Salt Lake City, Utah (PRWEB) November 02, 2016
Connecting students to the real world increases the relevance of activities in school. That is the focus of many educational enrichment projects the McCarthey Dressman Education Foundation (MDEF) is recognizing this year. Whether it's using music and craft to connect learners with their past in a more tangible way, or giving them the resources to concentrate on their future, the MDEF is supporting educators who help students connect to learning by exploration of the real world. They've also invested in projects utilizing the emerging technologies of virtual and augmented reality that will help connect students to faraway places and help provide a more complete understanding of their environment.
"Not only will these projects broaden students' views of the world while connecting them to a sense of place, the funded grants have the potential to transform learners and the process of learning itself!" said Sarah J. McCarthey, President of the Foundation which awarded over $160,000 in grants and scholarships for the 2016-17 academic year.
While the projects take a variety of forms, connection is a clear theme.
Making a real-world connection to history, the Cigar Box Guitar Odyssey is an exciting project designed to take fourth-grade gifted students on a cultural journey. Discovery and self-directed learning will keep students engaged as they research the Delta origin of the Blues, learn principles of acoustics, apply physics of sound, and utilize math process skills. All of these efforts will be integrated to support students in creating their own functional piece of folk art: a cigar box guitar. As they make their instruments, children will research the history behind their creation and of the origin of the Blues genre --the foundation of American music that originated in their home state of Mississippi.
While history is important, it's just as vital to connect students to their future. The aims of the Ronan Student Nursing Partnership (RSNP) are simple and precise. The partnership includes Ronan High School, St. Luke Community Hospital and the Salish Kootenai College in Pablo, MT. In this community nursing students are usually obligated to fundraise in order to participate in a Certified Nursing Assistant program taking away valuable time to study. By allocating funds to cover the cost of entry, the RSNP frees up student time to devote to pursue life-saving skills.
The 3D Augmented Reality Sandbox project is breaking new ground in the classroom. This project will support the creation of an augmented reality 3D sandbox to support inquiry-based learning of earth science concepts through hands-on investigation, prediction, and simulations. This technology takes an abstract concept that was taught with wall maps and still images to make science learning more active and engaging.
The educators putting together the project A New Vision: Using Google Cardboard to Promote Experiential Learning are shedding the constraints of the physical reality and immersing themselves in virtual, experiential learning. Unfortunately, experiential learning is often limited by time, money, and support, especially for children who live in an urban environment where resources can be scarce. It can be difficult and expensive to bring students on field trips; and they are limited to the immediate vicinity of the school. Through Google Cardboard and virtual reality, the expense and difficulty of field trips are overcome and students are able to experience new places from their classroom.
In 2016-17, the Foundation has funded four new Academic Enrichment Grants at schools serving minority and economically disadvantaged students; three Teacher Development grants with similar demographics; and three student teacher scholarships. Recipients include:
Academic Enrichment Grant Recipients

Merijke Coenraad, A New Vision: Using Google Cardboard to Promote Experiential Learning — Brighton, MA
Victoria Rudolph, Cigar Box Guitar Odyssey — Gautier, MS
Ron Fritz, 3D Augmented Reality Sandbox — Athens, PA
Chris Briske, Ronan Student Nursing Partnership — Ronan, MT
Teacher Development Grant Recipients

Cindy Seckel, Full STEAM Ahead — Sumter, NC
Lisa Cartwright, Math and Maritime Place-Based Learning – M2PBL —Port Townsend, WA
Erica Koudelka, Collaborative Dialogues and Interventions – Understanding Middle-Grades Student Disengagement —Forest Park, IL
Student Teaching Scholarship Recipients

Joneshia Cransford, Stephen F. Austin State University
Yesenia Campos, University of California, Santa Cruz
Anthony Garcia, University of California, Santa Cruz
The mission of McCarthey Dressman Education Foundation (mccartheydressman.org) is to serve as a catalyst in maximizing the skills and creativity of educators at the K-12 levels and in cultivating pioneering approaches to teaching that result in dynamic student learning. The Foundation sponsors proposals that enhance student learning and educational quality, paying particular attention to those that best serve under-funded schools. The application deadline is April 15 of each year for proposals with significant potential to enrich the educational experiences for youth.