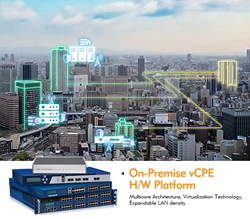 Fremont, CA (PRWEB) November 01, 2016
NEXCOM NSA and DNA series provide telecom carriers solid on-premise vCPE hardware platforms to dynamically respond to changes in clients' needs. Aimed to address high variation in the demands of enterprise clients, five NEXCOM on-premise vCPE hardware platforms are available with a versatile combination of multi-core architecture, virtualization technology, and bandwidth capacities. With NEXCOM on-premise vCPE hardware platforms, telecom carriers can weave flexibility and agility into service delivery and manage the increasing complexity of business environments with a tiered service strategy.
To empower telecom carriers to nimbly manage services on on-premise vCPEs, NEXCMO on-premise vCPE hardware platforms can run various networking applications simultaneously in virtual environments. Coming in a variety of configurations including a 1-to-44 core count and memory size from 8GB to 512GB, NEXCOM on-premise vCPE hardware platforms ensure smooth execution of networking services across virtual machines (VMs) and are equipped with Intel® Virtualization Technology (Intel® VT), Intel® AES New Instructions (Intel® AES-NI) to boost virtualization and encryption performance without computing penalty. Along with high-speed 10 Gigabit Ethernet connection and expandable bandwidth, NEXCOM on-premise vCPE hardware platforms allow telecom carriers to easily allocate hardware resources for service upgrade, expansion, and termination.
About NEXCOM: Founded in 1992, NEXCOM integrates its capabilities and operates six global businesses, which are IoT Automation Solutions, Intelligent Digital Security, Internet of Things, Interactive Signage Platform, Mobile Computing Solutions, and Network and Communication Solutions. NEXCOM serves its customers worldwide through its subsidiaries in five major industrial countries. Under the IoT megatrend, NEXCOM expands its offerings with solutions in emerging applications including IoT, robotics, connected cars, Industry 4.0, and industrial security.