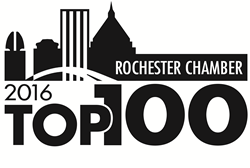 The Rochester Top 100 Program was created as a tribute to the area's innovation and entrepreneurial character, and D4 epitomizes that spirit
Rochester, NY (PRWEB) October 28, 2016
D4, LLC, an international leader in eDiscovery managed services, litigation support, computer forensics, document review and deposition solutions announced today that the company has been recognized for the seventh consecutive year as a Rochester Top 100 company.
"As a proud company born and raised in Rochester, we are thrilled to be recognized again as a Rochester Top 100," said John Holland, Founder and CEO of D4. "The Rochester Top 100 Program was created as a tribute to the area's innovation and entrepreneurial character, and D4 epitomizes that spirit. Since our founding nearly 20 years ago, our focus has been on providing our customers with the most advanced technology and exceptional people—and that's ultimately what drives our continued growth."
This is the final year that D4 will be eligible for the Rochester Top 100, since its acquisition by Adecco and Special Counsel earlier this month. Holland adds, "We are deeply thankful to the Rochester community and all of our customers and team members for bringing us to this level."
The Rochester Top 100 is a program of the Rochester Chamber and KPMG honoring the fastest growing companies in Upstate New York. Since 1988, they have ranked the area's privately held companies based on dollar and percentage revenue increases over the prior three fiscal years.
"We've taken the D4 spirit of innovation into China, meeting and even anticipating the needs of law firms and corporations doing business behind the Great Wall," said Peter Coons, SVP and Co-Founder of D4. "Our corporate and law firm customers get the quality and service they have come to expect from D4, with the benefit of hosting, collecting, and eDiscovery services in our Shanghai data center—as well as our skilled assistance navigating China's strict data protection laws. It's that kind of forward-thinking that has contributed substantially to our growth."
About D4, LLC
D4 is a leading provider of managed data and discovery services to law firms and corporations.
D4 offers full-service capabilities with local infrastructure to support litigation, investigations, compliance and other legal matters. The company's state-of-the-art data centers and global operations are complemented by electronic discovery, computer forensics and document review offices throughout the USA, China and the UK. Depth of staff, experience and innovative technology allow the company to provide first-class performance worldwide.
D4 was one of the first providers to offer an eDiscovery Managed Services solution, and continues to lead the field in innovation. D4 became part of Special Counsel and the Adecco Group in 2016, enhancing D4's offerings with Managed Review and streamlined access to legal staffing. Visit http://www.d4discovery.com for more information.