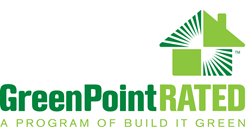 "GreenPoint Rated Version 7.0 breaks new ground, with innovative new pathways to build next-generation homes, including zero net energy (ZNE) and low-carbon, all-electric homes." --Karin Burns, Build It Green Executive Director
Oakland, CA (PRWEB) October 28, 2016
GreenPoint Rated Version 7.0 was released today, setting a new standard in California for green and healthy homes. The updated version of California's most trusted green home certification system awards points for newly built homes that incorporate the leading green building practices and save energy, water, and greenhouse gas emissions far beyond homes constructed to the minimum building code standards.
"For California to meet its long-term climate and energy goals, we need a higher standard like GreenPoint Rated to advance the residential market," said Karin Burns, Executive Director of Build It Green, the nonprofit organization that administers the GreenPoint Rated program. "GreenPoint Rated Version 7.0 breaks new ground, with innovative new pathways to build next-generation homes, including zero net energy (ZNE) and low-carbon, all-electric homes."
GreenPoint Rated is an independent seal of approval that reassures homeowners that a home is healthier, more comfortable, durable, and resource-efficient. Studies show that certifications like GreenPoint Rated can increase home value by up to 9%. In California, GreenPoint Rated has certified 43,000 homes—more than any other comprehensive green home certification system. "GreenPoint Rated Version 7.0 works for builders, developers and local governments, because it's a credible standard that is also flexible enough to help them meet their goals," added Burns.
Version 7.0 of GreenPoint Rated includes groundbreaking new measures and guidance. It defines new pathways for how to build next-generation energy-saving homes and multifamily buildings, including zero net energy homes and low-carbon, all-electric homes that avoid fossil fuels. It awards new points for innovative home features and building practices: For example, adding energy storage systems in tandem with solar PV, or adding electric vehicle charging stations to apartment buildings, or conducting a climate change vulnerability assessment for a project site.
GreenPoint Rated Version 7.0 will take effect on January 1, 2017, in tandem with the State of California's 2016 California Codes and Regulations and Building Energy Efficiency Standards (Title 24, Part 6). Version 7.0 was developed by Build It Green technical staff, with extensive input from stakeholders—subject matter experts, builders, contractors, raters, local government staff, etc.—and several public comment periods.
Learn More:
https://www.builditgreen.org/index.php?option=com_content&view=article&layout=edit&id=171
About Build It Green
Build It Green is a nonprofit with a mission to help professionals adopt green practices and grow the market for efficient, healthy homes. Our pioneering work is transforming how homes are built and renovated in California and beyond. Learn more at http://www.builditgreen.org.