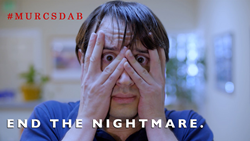 Los Angeles, California (PRWEB) October 28, 2016
Platinum Edge, LLC, an industry-recognized global thought leader in agile project management, is making a splash with the launch of a short video series for Halloween that comically highlights the nightmares scrum teams face in the workplace on a regular basis.
A framework for increasing team visibility and performance as part of the larger agile project management paradigm, scrum is intended to bring teams together so they can work more effectively. However, many times there are horrific consequences caused by implementing bad scrum, which is where the video series and #murcsdab movement were born.
Based on the horror masterpiece The Shining, vignettes in the series hilariously riff off iconic movie scenes, including the chilling twins in blue dresses that appear in the hallway to a young boy (young office worker in this case). Using a blend of comedy and horror, very real problems are brought to light while also showing that there are in fact solutions.
"We decided to have some fun this year by creating videos that are purposely over the top, but are at the same time relatable to a lot of people who have encountered really bad scrum, which is a scary thing," stated Mark Layton, Founder and Managing Member of Platinum Edge. He went on to add: "The only way to implement scrum, which is a simple framework, is by doing it as intended."
Platinum Edge tapped boutique agency EMFATIK to craft several offbeat, one-minute pieces for the "Scrum Nightmare" series, which received thousands of views on YouTube within the first week of launching and continues to generate buzz in the tech world.
To view the Scrum Nightmare series, please visit the following link: https://www.youtube.com/watch?v=rxIt20JuzB0&list=PLLyg8ZjFVvDGYX9eJsdc0XbqzmfgaI-1_
For information on Platinum Edge's scrum certification or agile coaching services, please call (866) 652-9866 or visit the company website: https://platinumedge.com
About Platinum Edge:
Platinum Edge, LLC helps companies deliver value faster, with fewer errors, at a lower total cost. The company is an agile-focused team of MBAs, behavioral science experts and certification instructors who Audit, Recruit, Train and Transform organizations to maximize return on investment. If your company has software and/or product development teams, Platinum Edge can help you.
Contact:
Platinum Edge, LLC
1810 E Sahara Ave. Suite 1581 
Las Vegas, NV 89104 
866-652-9866
https://www.platinumedge.com