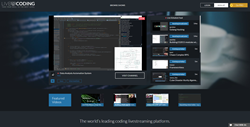 "Take your skill to the next level"
San Francisco, CA (PRWEB) October 30, 2016
Livecoding.tv recently came up with significant upgrades to their platform. With over 250,000 coders from 194 countries, the website aims to deliver a high-quality collaborative environment for engineers to broadcast their projects.
Livecoding.tv mission is to become the live education company where people come to take their skill to the next level and collaborate with peers around the world on projects.
The new update consists of many changes including new UX design, User Discovery Engine, Chrome push notification, and a release of Livecoding.tv's own streaming client AvCaster which is currently in the beta phase.
New streaming clusters have also been released to improve broadcasters and viewers experience. The new streaming cluster includes Europe, North America, and Asia-Pacific. The streaming cluster enables anyone around the world to watch the broadcast at optimal quality and speed.
Livecoding.tv: more educational than ever.
With new updates, Livecoding.tv is now the leading destination for engineers to showcase their skills. New category pages that cover 266 technologies have also been released.
Livecoding.tv success comes from the enthusiast audience around the world sharing their knowledge with the community. Livecoding.tv also aims to help beginners with educational video series, educational guides and refined interaction with experienced coders.
"Livecoding.tv is about bridging the gap between real-world coding skills and theoretical knowledge. We have engineers from Google, Facebook, and other big companies broadcast regularly and share their invaluable experience", said Michael J. Garbade, CEO of Livecoding.tv. "Livecoding.tv is unlike other sites focused on real projects and practical experience. We are helping coders to take their skill to the next level and also connecting them to collaborate on projects. There are amazing projects that coders from USA, Brazil, Russia and China are building."
About Livecoding.tv
LiveEdu (Livecoding) is a live education company which helps people take their skill to the next level and collaborate with peers around the world on projects. Collaborate, watch and learn from livestream sessions on multiple topics.
The site first went live on Feb. 23, 2015. The idea was inspired by Michael playing games on Twitch and developing software in a Linux VirtualBox environment. The aha moment came with the question what if there was a livestreaming platform where software engineers could share code, exchange experiences, socialize and take their coding to the next level.
Today the site is a reality with over 250,000 coders from 194 countries, 266 programming languages and 21,000 projects being developed live. Our users are professional engineers, computer science students, and hobby coders. For more information, visit https://www.livecoding.tv or follow Livecoding.tv on Twitter @llivecodingtv.