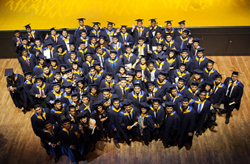 "I would be thankful to LSM definitely" said Marina, "after graduating I got a new job with the fourth largest software company worldwide!"
London, England (PRWEB UK) 28 October 2016
London School of Marketing, a pioneer in the blended learning education industry, recently held its graduation ceremony at the O2 arena in a truly exceptional manner. The tedious graduation formalities were replaced with fun filled proceedings which allowed for more treasured memories for the happy graduates.
The graduation ceremony which united over a 1000 students from around the globe provided students with the opportunity to celebrate with their friends and family immediately after receiving their awards on stage.
As the venue filled with happy chatter from the graduates and their loved ones, a few students took a moment to reflect back on their educational journey with LSM. "LSM, they have a very flexible working programme, especially for working professionals like me." said LSM student, Evan Ray Benedicto.
MBA Graduate, Marina Zennaro also shared the news of her new job opportunity after completing her postgraduate qualification. "I would be thankful to LSM definitely" says Marina in the video, "After graduating I got a new job with the fourth largest software company worldwide!"
Nasrominallah and Xialeemar both entrepreneurs and graduates of LSM, discussed how they look forward to improving their own business and benefiting society by utilising the knowledge, skills and abilities gained from London School of Marketing.
The school which has been operating in the education industry since 2004 is known for unorthodox approaches implemented to achieve their goal of removing all boundaries to education. Director of Academic Operations, David Holliman ended the proceedings with a few words of wisdom for the graduates. "Your education doesn't end today" said Dave from the graduation stage podium, "Your education gives you responsibility. Responsibility to educate others and to lead to the growth and development of the next generation."
The key moments of the unique graduation ceremony, including statements from students were captured on video and can be viewed here. To learn about the range of internationally recognised qualifications offered, visit London School of Marketing's course page at http://www.londonschoolofmarketing.com/our-courses
London School of Marketing delivers accredited marketing and business qualifications, and offers professional courses from recognised professional bodies such as CIM, EduQual and academic qualifications on Marketing, Business, Finance, Law and HRM from Anglia Ruskin University and The University of Northampton. Based in Central London, they are a QAA approved institution. The school also has offices in Sri Lanka, a network of Local Access Points (LAPs), and online programmes of learning.