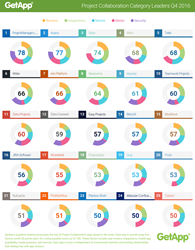 Projectmanager.com has managed to climb from third place to first place in the last three quarters of 2016, beating Asana in second place, and Slack in third place, with a total score of 78
Barcelona, Spain (PRWEB) October 31, 2016
Projectmanager.com has edged its way into the first place position in GetApp's Q4 2016 ranking of the top 25 project collaboration solutions in the cloud. Asana takes second place, while Slack sits in third.
The GetApp Category Leader rankings are intended to give small and mid-sized businesses an outline of the top software choices in project collaboration. The ranking is determined using five factors, each worth 20 points, for a total possible score of 100. These data points include user reviews, integrations, mobile app availability, media presence, and security.
"Projectmanager.com has managed to climb from third place to first place in the last three quarters of 2016, beating Asana in second place, and Slack in third place, with a total score of 78. Asana came in a very close second, just one point behind Projectmanager.com with a 77, while third place Slack deserves a mention for scoring a perfect 20 points in both integrations and reviews for a total score of 74," says Suzie Blaszkiewicz, project manager for GetApp's Category Leader ranking.
Click through to see the entire Q4 2016 Category Leader ranking of the top 25 project collaboration solutions.
More about GetApp: GetApp is the leading premium business app discovery platform on the web. Headquartered in Barcelona (Spain), GetApp serves as a platform for user-generated and editorial reviews of software and apps for businesses.
###