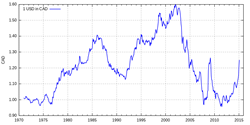 Trinity School of Medicine is in many ways about removing barriers beyond a students' control. Programs like this are just another example of our ongoing efforts to make an excellent medical education available to qualified, engaged future physicians.
(PRWEB) November 02, 2016
Beginning in January 2017, Trinity School of Medicine is enacting a hardship grant for Canadian students to compensate for the current value of the Canadian dollar. This "Exchange rate grant" will be assessed prior to the start of each new term. When the Canadian dollar is valued at 90% or less than the US dollar, the percentile difference will be applied as a grant to a qualified students' tuition.
For example:
Currently, $1.34 CAD is worth $1.00 US. That's a difference in value of 26%. In this example, Trinity's Canadian students would receive a hardship grant that would cover 16% of their tuition for the upcoming term. In a time where student debt is continuing to become a major source of concern for students, Trinity's grant is designed to alleviate some of that stress, particularly in an area completely beyond students' control (international currency values).
Following the internal announcement, Canadian students expressed their gratitude independently and formally, through a letter from Trinity's local CaMSA (Canadian Medical Student Association) chapter.
CaMSA student leadership wrote, "As you know, financial assistance for Canadians is complicated by government regulations that limit our ability to obtain loans and scholarships, as well as being unable to offset any previous student loans acquired. The ability to alleviate some of this burden was one of the primary goals we had in choosing to take the leadership within CaMSA, and we are so proud to share this news with all of our current and incoming Canadian colleagues. We would like to extend our deepest thanks and appreciation for this monumental step in supporting Canadian students at Trinity."
The hardship grant, although contingent on the disparate currency values, is at current available to all Canadian students, present and future.
About Trinity School of Medicine
Trinity School of Medicine is a fully accredited International medical school focused on helping students achieve their goals of becoming licensed physicians in the U.S., Canada, and Caribbean nations. Trinity is known for its early clinical experience, internally supportive and externally philanthropic campus culture, and a marked dedication to the study of excellence in medical education.
To find out more, visit http://www.trinityschoolofmedicine.org/
###