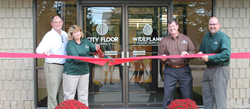 We're so grateful to have had the support of our vendors, customers and employees in developing this facility. Moving to this new location has securely positioned City Floor Supply and our subsidiaries for continued growth well into the future
King of Prussia, PA (PRWEB) October 30, 2016
City Floor Supply, the nation's leading hardwood floor supplier, hosted a cocktail party on Thursday, October 13th to celebrate the official grand opening of their new North American Headquarters located in King of Prussia, Pennsylvania.
The evening began with a ribbon cutting ceremony to officially kick off the festivities, as more than 100 vendors, customers, and friends gathered to celebrate. Mike Glavin, founder of City Floor Supply, took the opportunity to thank everyone in attendance for their unwavering support in the 17 months since a fire leveled company's former headquarters.
Guests toured the company's new headquarters which features a warehouse and distribution center, contractor pro shop, hardwood floor machine repair shop, administrative offices and a hardwood floor showroom. The facility was well received from contractors and vendors alike. "We heard such positive comments, especially with regard to the showroom floors which showcase more than 20 different varieties of wide plank and reclaimed hardwoods," said Mike Glavin, founder of City Floor Supply.
The highlight of the event was the screening of a documentary which chronicled the company's journey back from the fire of 2015 up to this point. The Glavin family then addressed the crowd to give thanks to everyone who supported them through the past 17 months.
"We're so grateful to have had the support of our vendors, customers and employees in developing this facility. Moving to this new location has securely positioned City Floor Supply and our subsidiaries for continued growth well into the future," concluded Glavin.
Click here to view a video of the grand opening celebration.
About City Floor Supply
City Floor Supply (CFS) is a leading provider of unfinished and prefinished hardwood flooring and accessories including stains, finishes, abrasives, flooring tools, and sanding equipment. Family owned and operated, CFS has been serving hardwood flooring contractors for more than 25 years and provides the expertise needed to install and maintain hardwood floors.
To visit CFS on Facebook, click HERE, or you can follow the company on Twitter at @CityFloorSupply. For product information and training videos, visit the company's YouTube channel or Blog. For media inquiries, contact Caran Baxter at caran.baxter(at)cityfloorsupply(dot)com or call 610-940-5757.