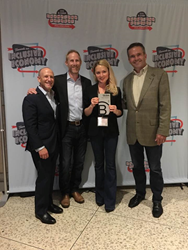 Our force to do good in the world is stronger together....
Rhinebeck, NY (PRWEB) October 28, 2016
Topricin's Director of Development and Public Relations was honored to accept The Building Community Award on behalf of Team Topricin at B Corporation's Champions Awards Dinner hosted in Philadelphia's National Constitutional Center on 10/09/2016.
The award was given by the Co-Founders of B Lab: Jay Coen Gilbert, Bart Houlahan, and Andrew Kassoy. The B Lab Team desired to recognize Team Topricin for their great efforts within the B Corp Community – creating social campaigns, contests, and collaborations between companies using business as a force of good.
Says Ms. Wood:
"We know our force to do good in the world is stronger together so we have energetically focused our efforts on our B Corp activity, joining up with fellow B Corps this year on valuable partnerships that produce positive change. As Keven A Trapni, President and CEO of The Redwoods Group expressed in his B Inspired Talk at Philadelphia's Anneberg Center for the Performing Arts on November, 20th, 'Nothing of Value in Life is Achieved Alone,' and bringing together our B Corp community has been of great benefit in achieving our triple bottom line in business - people, planet and profit."
Some of Topricin's recent collaborations include:

Helping Ethical Bean launch their unique 100% certified compostable single serve coffee pod
Hosting a contest for kids with Plum Organics, offering a "Fuel On-The-Go Power Pack" giveaway to nourish active bodies inside and out
Joining up with B Corps' RoundPeg and Kuli Kuli Foods on a "B Corp Sports Pack", just in time for school and sports teams to enjoy
Showcasing at "The Healthy Brand Showcase" in NYC hosted by B Corp Paige Wolf Media & Public Relations and along with other fellow B Corps brands like Goddess Garden and Lucky Vitamin
To learn more, please read the company's blog titled "A Busy B": https://topricin.wordpress.com/2016/08/24/a-busy-b/
Team Topricin also gives great thanks to Rivanna Design's inspiring team members Gretchen Wirth and Kristina Constantine for creating the stunning B the Change Trophy. Rivanna Natural Designs is 100% woman-owned with a simple objective to create green jobs for refugees and others in our community who needed safe, meaningful, and rewarding employment. They design and build unique recognition products that honor the planet and celebrate the beauty of the natural world.
Certified B Corporations are leading a global movement to redefine success in business. Topical BioMedics, Inc. met the rigorous standards necessary for certification and is proud to be among the vibrant B Corp community that includes such respected companies as Ben & Jerry's, Cabot Creamery, Care2, Dansco, Etsy, King Arthur Flour, Patagonia, Seventh Generation, The Honest Company, and Uncommon Goods.
Says Ms. Wood:
"We applaud B Lab and their entire team for hosting The Champions Retreat. We are now even more inspired to be the change we seek in the world and will continue to act with the understanding that we are each dependent upon another and thus responsible for each other and future generations."
About Topical BioMedics, Inc.:
Topical BioMedics is a research and development leader in the transdermal application of natural biomedicines in combination, through its patented healing technology platform, Topricin. The company's flagship product, Topricin® Pain Relief and Healing Cream, was introduced in 1994 as an innovative 21st century approach of relieving the cause of pain at the cellular level by supporting an optimum healing response, assisting the body's desire to heal the damaged cells causing the pain. Topricin is now a leading natural therapeutic brand, both for active people and in patient care.
The products contain specialized formulations of 11-17 natural biomedicines, treating a wide range of pain ailments and awarded patents for the treatment of pain associated with neuropathy (diabetic and chemo-induced) and fibromyalgia. Topricin products are changing the way pain is diagnosed and treated and have become mandatory treatment protocol at world renowned medical centers - treating the cellular cause of pain results in reduced dependency for all classes of oral pain pills including opioids.
This natural healing product line also includes; Topricin Foot Therapy Cream, specially formulated to treat the challenges foot and ankle pain issues. Topricin for Children, which received the Parent-Tested, Parent-Approved, Seal of Approval (with 5% of sales donated to a pediatric cancer foundation in NY State). The company launched the MyPainAway® (powered by Topricin) line of products. Its three new formulas MyPainAway Fibro Cream was formulated to provide viable pain relief for people with fibromyalgia, MyPainAway After-Burn Cream that treats the cells damaged by a burn, and MyPainAway Sports Cream targeted towards athletes, weekend warriors, and active people everywhere.
Topricin is proud to be, Made in the U.S.A., with lots of Love, pure biomedicines, no harsh chemicals, will not interfere with any other medicines making Topricin products ideal for the entire family, restoring hope and quality of life supporting a Healthy Active Lifestyle.
Topricin is available in independent pharmacies, natural food and co-op stores nationwide, including Whole Foods, Sprouts, Pharmaca, The Vitamin Shoppe, Fred Meyer, Wegmans, CVS, Walgreens (Diabetic Section), and other fine retailers, as well as directly from the company. For more information visit http://www.topricin.com.
About B Lab:
B Lab is a 501(c)3 nonprofit that serves a global movement of entrepreneurs using the power of business to solve social and environmental problems. B Lab serves these entrepreneurs through three interrelated initiatives that provide them the legal infrastructure and help them attract the customers, talent, and capital to scale.
B Lab drives systemic change through three interrelated initiatives: 1) building a community of Certified B Corporations to make it easier for all of us to tell the difference between 'good companies' and just good marketing; 2) accelerating the growth of the impact investing asset class through use of B Lab's GIIRS impact rating system by institutional investors; and 3) promoting legislation creating a new corporate form that meets higher standards of purpose, accountability, and transparency. For more information, visit http://www.bcorporation.net.