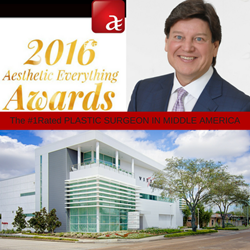 Houston, TX (PRWEB) October 28, 2016
Paul Vitenas, M.D., F.A.C.S. is excited to announce that has once again been named as one of the Top 10 Plastic Surgeons in Middle America by Aesthetic Everything. The coveted title is reserved for the best cosmetic surgeons in the country. This is the second year in a row that Dr. Vitenas has been in the spotlight for this prestigious award.
Aesthetic Everything is the largest social network in aesthetics. With thousands of members, the website annually announces a set of prestigious awards for the best plastic surgeons, medispas and aesthetic providers in the country.
While many doctors compete for a place in the Top 10 Plastic Surgeons in Middle America, the winners are selected for their unmatched educational background, work ethic and participation in continuing education, as well as their involvement in local, national and international associations. Aesthetic Everything also completes exhaustive research on doctor performance and patient satisfaction before making their final lists.
With close to 30 years of aesthetic experience, Dr. Vitenas is known for making sure every patient coming into his office will receive safe, satisfying and natural-looking results. "No matter how large or small the change, we at Vitenas Cosmetic Surgery are committed to providing the superior care (our patients) desire and deserve," he explains. To meet evolving patient needs, Dr. Vitenas expanded his practice in 2014, with a modern, state-of-the art facility, including a noninvasive medical spa, a duo of private surgical rooms and a 24-hour recovery suite, all located steps from his office.
In addition to the Top 10 Plastic Surgeons in Middle America award, Dr. Vitenas has also been recently honored with the title of a Top Board Certified and Accredited Doctor by Modern Luxury Magazine, a Castle Connolly Top Doctor, won the City Beat News Spectrum Award for Excellence in Customer Service and was named as part of the RealSelf 100. His facility, Vitenas Cosmetic Surgery, has been named as a Top Cosmetic Clinic in 2016 by the Top Choice Awards and won the 2015 Healthcare Design Award from the American Institute of Architects. Mirror Mirror Beauty Boutique, Dr. Vitenas' medical spa, was named by Aesthetic Everything as a 2016 Top 10 Medical Spa in the nation, as well.
Dr. Vitenas is a board certified plastic surgeon, specializing in aesthetic procedures for the face and body. After completing his medical training at the Tulane University School of Medicine, he completed a Craniofacial and Cosmetic Surgery Fellowship at the Hospital Necker and Clinic Belvedere in Paris, as well as an Orthognathic Surgery Fellowship at the Louisiana State Medical Center. Dr. Vitenas has been in private practice in the Houston area since 1990.
Vitenas Cosmetic Surgery is located at 4208 Richmond Avenue, close to Houston's best dining, shopping and luxurious accommodations. To get more information on the variety of plastic and noninvasive procedures available, or to schedule a complimentary consultation with Dr. Vitenas, contact a patient coordinator at 281.484.0088. For more information on the 2016 Top 10 Plastic Surgeons in Middle America, please visit Aesthetic Everything.