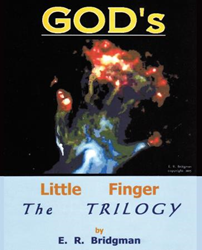 I also hope they have a desire to make notations and to seek out the scientific and the Gospel truths, and to see the differences and the similarities.
Tulsa, OK (PRWEB) October 31, 2016
E. R. Bridgman's new book, God's Little Finger - The Trilogy, ($24.99, paperback, 9781498450003; $9.99, e-book, 9781498450010) is an entertaining mix of science fiction and Christian fiction intertwined with real life with humor, romance, anger, frustration and aggravation and a healthy dose of what a Christian is supposed to be and do. Biblical truths and prophecy are injected in the storyline – bold in their deliveries and the book's main message.
The story is mostly conversational between hot tempered, Irishman JohnAthan Edward David O'Brannon and his mother, wife, and many characters that are within John's universe. He is a unique man, having had a strange unknown power when he was 5 years old that suddenly disappeared when he reached puberty. Fast forward to the very first days of 2021, when he meets an entity and they have a "lively" conversation. The alien is not really an alien. It is God. Suddenly, "The Power" returns into JohnAthan's DNA and things begin to really heat up. He is then faced with many twists and turns in his life, from a military viewpoint of his inventions, to meeting an old friend who becomes his wife.
This book proves to be a fun and intense look at life through the looking glass of a probable future – prophetically and scientifically – with the strong assurance of an omnipotent God who is both loving and firm. The future is yet to be, and is flexible to the point of God's ultimate Words and His control, over and upon the lives of all people - His ultimate creation, to live for Him, and to live with Him for all eternity. Cliffhanger chapter endings will pique the reader's interest and curiosity to where they will want to continue reading until the very end, where a surprise ending is waiting for them.
"I hope readers gain an appreciation of a blend of various styles of writing that makes them think for themselves, and acknowledge something so different than what they expected," states the author. "I also hope they have a desire to make notations and to seek out the scientific and the Gospel truths, and to see the differences and the similarities."
Since childhood, E. R. Bridgman has always read science magazines, science books and science fiction books. He grew up singing in his father's church and felt an early calling to preach. Then, he began to sense a desire to write a Christian book on the Gospel and the prophecies. He also liked certain aspects of everyday life, including architecture, which led him to a stronger love of the Creation Designer. This book includes all aspects of life and biblical teachings combined together. He holds a B.A. in Religion from Southwestern Christian University, in Bethany, Oklahoma and has continued his studies on his own.
Xulon Press, a division of Salem Media Group, is the world's largest Christian self-publisher, with more than 15,000 titles published to date. Retailers may order God's Little Finger - The Trilogy through Ingram Book Company and/or Spring Arbor Book Distributors. The book is available online through xulonpress.com/bookstore, amazon.com, and barnesandnoble.com.
Media Contact: E. R. Bridgman
Email: erbridgman8(at)gmail(dot)com
Website: ERBridgman.com