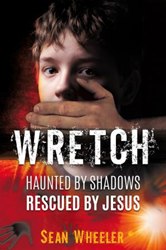 To understand there is nothing too big for God to overcome
Loveland, CO (PRWEB) November 01, 2016
Sean Wheeler's new book, Wretch - Haunted by Shadows - Rescued by Jesus, ($14.99, paperback, 9781498486736; $7.99, e-book, 9781498486743) is the author's powerful written testimony – a thought-provoking work showing how the author accepted that he could not change his past but through Christ he successfully changed his destiny. He explains how Christ set him free from the chains of shame, guilt and fear put on him – a result of being trafficked for sex over 4 years as a preteen. This book shows how He did that in Sean, and how He can do that in other abuse victims or anyone facing harsh challenges in life.
Written with raw and honest emotion, the book is moving, sad, and inspiring all at once. The author pours himself into describing his deepest struggles, and many readers will be able to relate. His describes the manifestations of his pain with gripping detail that will speak to fellow survivors of abuse who are also plagued with their own shadows.
According to Sean Wheeler, 1 in 6 boys will be abused verbally, physically, emotionally or sexually by the time they turn 18 years old. Tragically, Sean was 1 of the 1 in 6. He explains that too many people do not realize boys are trafficked in the United States, but this problem is coming to light in the national news. He wants readers to know that trafficking is not just a problem for girls, but equally as painful for boys. Sean hopes that by sharing his testimony, he can help to bring more light to this darkness. He speaks on behalf of those still trapped in fear. His goal is to bring a message of hope and healing through Christ.
"To understand there is nothing too big for God to overcome," states the author. "I fought this alone for years without results, then Jesus found me and through Him I am finally, fully and forever free. Welcome to the school of mercy and grace! They are offered to all and I am living proof of His Word. Jesus says, 'I will take what was meant for your harm and turn it to good.'"
Sean Wheeler lived through being trafficked, beaten and all of the subsequent chains placed on him from being taught lies of the enemy. Christ showed him that he was not made for that ¬– that he was not created to be just an object for people to use. He taught Sean that he is a masterpiece in His eyes. Sean no longer describes himself as only the left over shell of some kid used up a very long time ago. Instead, today, he describes himself as a child of God. According to the author, over 11,000 people have heard his story and he will continue to testify wherever he is asked to present his story.
Xulon Press, a division of Salem Media Group, is the world's largest Christian self-publisher, with more than 15,000 titles published to date. Retailers may order Wretch - Haunted by Shadows - Rescued by Jesus through Ingram Book Company and/or Spring Arbor Book Distributors. The book is available online through xulonpress.com/bookstore, amazon.com, and barnesandnoble.com.