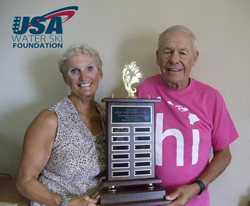 Polk City, FLA (PRWEB) October 28, 2016
The USA Water Ski Foundation is pleased to announce that Carroll "Bud" & Janet Piercy, as a couple, will be recipients of the newly formed Lifetime Achievement Award.
The award, established by the USA Water Ski Foundation's Hall of Fame Selection Committee last year, recognizes longevity in the sport and goes to those individuals who have been actively involved in one or more of the USA Water Ski sport disciplines for a minimum of 50 years. Whether they are competitors, coaches or behind the scenes tireless promoters and administrators, these individuals have spent at least a half a century being ambassadors of our great sport.
The Piercy's will be recognized at the 2017 Water Ski Hall of Fame Induction Ceremony on April 29th at Walt Disney's World Showplace Pavilion at Epcot Theme Park.
Carroll "Bud" and Janet Piercy met in 1961 on a blind date. Not too long after that, they started their water skiing career which has spanned more than 50 years. Bud is a 20-time National Champion and Janet holds 19 National Championship titles. The couple built a ski site near their home in Nebraska where they owned a Marina. Over the past four decades, through this site, the Piercy's have promoted the sport of throughout the Midwest, hosting water ski tournaments, servicing boats, and coaching water skiers. Bud & Janet have been water ski officials since 1971 and are long time Senior Drivers and Judges. Bud has served as a Senior Judge and Senior Driver for multiple Midwest Regionals and Nationals. He is also a Nebraska State Safety Director. Janet has served as Pan Am Judge, Senior Scorer and has been National Chairman for the Judges & Scorers Committee. She was Midwest Director from 1997-2003 and is an Honorary National Director. Both have Chief Judged Regionals. Janet has been the Chief Scorer of both the Midwest Regionals and the Nationals. Bud was the tournament director for the 1973 & 1975 Midwest Regionals. Bud and Janet have been a driving force for skiers in Iowa and Nebraska for many years. They have been instrumental in promoting water skiing in the Nebraska State Games and have hosted U Can Ski 2 clinics for the disabled at their site for many years.