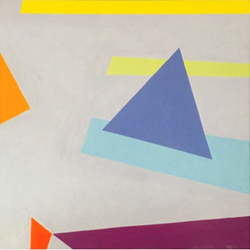 Each painting startswith a graphite line drawing. I stop drawing and start paintingwhen I see the push and pull of the shapes.
Manhattan, NY (PRWEB) November 02, 2016
Galerie Mourlot is pleased to invite you to the opening reception on Thursday, November 17th from 6 to 9 p.m. at 16 E 79th Street, New York, NY for Drawing the Line, the largest solo exhibition to date for New York City and Alexandria, Virginia-based artist Judith Seligson's geometric abstract paintings. Ms. Seligson explains, "Each painting starts with a graphite line drawing. I stop drawing and start painting when I see the push and pull of the shapes." The fifty recent paintings in the show range in scale from 4 x 4 inches to 6 x 6 feet, from 2014 to 2016, most never before exhibited. Many of the newest works are topological, constructed of multiple panels, thus drawing the line in three dimensions. Gallery owner Eric Mourlot says, "Seligson's work fits well with the gallery's focus on process. The frames themselves are works of art."
In a recent review, The Washington Post said Seligson's style is reminiscent of Josef Albers and Frank Stella. Eric Gibson, in a review of her solo show at the Jane Haslem Gallery, said Seligson's "painting [is] possessed of a jewellike radiance and visual intensity." Her work, including her collaborations with her husband Allan Greenberg, was featured in the New York Times.
Seligson says the smaller works have a feminist bent. "The world is so in love with large and with making large synonymous with important. My understanding of painting is that the relationships within the painting, not its size, determine quality. I've made these small paintings to explore that boundary." she said. Boundary – where does one draw the line – becomes an artistic, as well as ethical and philosophical, trope for the artist.
About the artist
Ms. Seligson studied painting with Flora Natapoff while she was majoring in Economics at Harvard. From Natapoff she learned the importance of small changes. From Philip Guston, whose course she audited, she learned austerity. From Victor Candell and Leo Manso at the Provincetown workshop she learned Hans Hoffman's push-pull. Ms. Seligson has been working with scale in painting since the mid-70's as a pioneer in Tribeca, when loft living and working was still illegal. She has had solo shows at the Jane Haslem Gallery in Washington, DC, Anita Friedman Fine Arts in New York City, and the Schlesinger Library at Radcliffe. In 2016 she was in Brooklyn's Art 3 Gallery's show of four contemporary artists working in geometric abstraction, as well as a solo show of 35 paintings, A Gap Frame of Mind, at The Athenaeum in Alexandria, VA.
Seligson sees the geometric abstract paintings as the core of her work, which also includes graphite text drawings, collage, and video. She has published in academic journals and spoken at academic conferences. The interdisciplinary approach of her work has received attention from a wide range of fields.
She is currently working on a book project entitled THE GAP: The Synaptic Sign of Modernity, which focuses on the space between objects in art, science, and literature. Please visit the artist's website to learn more.
About Galérie Mourlot
Galérie Mourlot was founded in 1991 by Eric Mourlot. Eric is the grandson of the director of Atelier Mourlot, the most reknowed print shop of the 20th century. A student of the artistic process, Eric grew up learning various print-making techniques that the atelier used to produce prints for the defining artists of their generation, including Marc Chagall, Alexander Calder, Pablo Picasso, Henri Matisse, and Joan Miró. As owner of Galérie Mourlot, Eric is carrying on his family's unique artistic legacy. Galérie Mourlot continues to display the works of contemporary and modern master artists, often with an eye toward exploring their connection to lithography. The Mourlot collection of prints, which includes thousands of images, is internationally available to the public in museums, galleries, and art fairs. A number of works were recently displayed in a show at the Metropolitan Museum's store gallery space.
###
For media inquires please contact:
Galery Director Ondine Janiv.
info(at)galeriemourlot(dot)com
(212) 288-8808
High-res images available upon request.