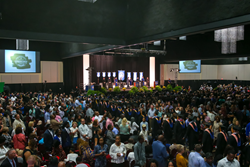 ORANGE BEACH, ALA. (PRWEB) October 28, 2016
More than 700 Columbia Southern University graduates were cheered and applauded as they walked across the stage in celebration at commencement ceremonies with family and friends on Friday in Orange Beach.
"It was a great experience! I love the school," said Pensacola Fla. Police detective Gilbert Galloway Jr., who graduated with his fiancée Christian Allen. He completed his online master's in public administration along with Allen who earned the same degree.
"Overall, this is a good school and I encourage anyone to give it a try. I never thought I would get a master's degree. I want to push further in life and now I am looking at getting my doctorate next," Galloway added.
During the ceremonies, CSU President Robert Mayes presented the Distinguished Faculty of the Year Award to adjunct professor Dennis Phalen. The award honored Phalen for his outstanding contributions to students.
The keynote speaker for the ceremonies was "What Would You Do?" TV host and journalist John Quinoňes, who spoke about his past and offered graduates advice about their future.
"As you move through life, be concerned with your character not your reputation," Quinoňes said. "It's your character that really matters because that is who you really are. Your reputation is what other people think you are which is often based on their own flawed perceptions and faulty assumptions."
He also talked about growing up poor in San Antonio, becoming a migrant farmworker at 13, and going on to understand the value of education by going to undergraduate and graduate school. "Learn the value of family coming together to get things done."
Among his final words to the 2016 CSU graduates, Quinoňes reminded them that money and material things alone will not make you happy.
"…the love of discovery, the joy of adventure, the satisfaction of helping others, making a difference in people's lives, giving a voice to people who don't have one --now there is the true reward," he said.
Graduates also heard from local guests Orange Beach City Administrator Ken Grimes and Alabama State Rep. Randy Davis.
The event was broadcasted live stream and can be viewed here http://www.columbiasouthern.edu/commencement/video.
CSU offers online certificate and degree programs in various fields such as human resource management, organizational leadership, fire administration, criminal justice and business administration. For more information about CSU, visit http://www.columbiasouthern.edu or call 800-977-8449.