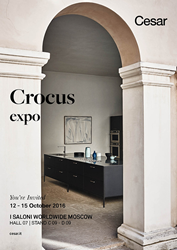 New York City, NY (PRWEB) October 31, 2016
Cesar participated in the twelfth edition of the "I Saloni Worldwide Moscow" exhibition, a landmark for the Italian home furnishing sector in Russia, held at the Crocus International Exhibition Center in Moscow last October 12 - 15 2016.
 
Cesar's most recent novelties were showcased giving the audience an opportunity to view the new Maxima 2.2 finishes and the innovative Unit model that boasts a different style but shares the former's creativity, strong impact and personality.
 
On this occasion Maxima 2.2 set off its minimalist lines by dressing up in different shades and materials such as metal and Quartz structured lacquer. The latter gives its surfaces an iridescent appeal, making them "vibrate", while the balanced interaction of the finishes appeal to those who love sophisticated, contemporary styles.  The multifunctional Wall Waiter module, a must-have to store and organize kitchenware and benefit from extra shelf space, enhanced and enriched the linearity of Maxima 2.2.
 
The new Unit project, designed by Garcia Cumini, comes straight from Milan's Fuori Salone 2016. Unit is a dynamic model with a lightweight appearance, developed to benefit from the planning freedom that wall arrangements do not possess. It beautifully blends professional flair with domestic warmth, technology and tradition. In the Crocus Exhibition Center, the Unit project was showcased in silk-effect Lagoon lacquer paired with Black Walnut and set within a Lagoon lacquered aluminum structure. It also boasts an Amani Gray marble worktop.
 
All the layouts exhibited at "I Saloni WorldWide Mosca" will bear witness to the company's essence, devoted to making kitchens that embody aesthetics, functionality and quality, guaranteed by constant research and aimed at improving the well-being of users day after day. 
Cesar New York is Cesar Italy's North American flagship location. Cesar is a luxury European kitchen cabinet company that produces extremely high quality contemporary kitchen cabinet and kitchen storage solutions. Cesar New York's showroom is open to trade designers and to the public. It is located at 50 West 23rd Street, New York, NY 10010.