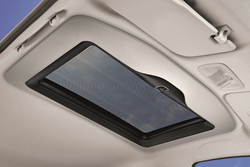 Webasto set out to deliver the safest, most robust and highest functioning aftermarket sunroofs on the market. – Mark Denny
Fenton, Mich. (PRWEB) November 01, 2016
Webasto Thermo & Comfort North America, a global tier-one automotive and aftermarket equipment manufacturer, and the largest manufacturer of OE and aftermarket sunroofs, will display new Structure Plus-enhanced Hollandia and SolAire sunroofs in booth 12927 at the 2016 SEMA Show in Las Vegas, Nevada. Webasto's Structure Plus design significantly increases structural strength and has been more thoroughly tested.
Webasto's Structure Plus Advantage
Structure Plus is designed to ensure proper function and strength in all approved aftermarket Webasto sunroof installations. The additional structure and specific design make Webasto sunroofs with Structure Plus the strongest aftermarket sunroof in Webasto's portfolio and will set a new standard for the industry.
Structural integrity of a retrofitted vehicle is significantly increased with the addition of Structure Plus technology. All SolAire and Hollandia aftermarket sunroof product lines have been tested and meet or exceed the U.S. Federal Motor Vehicle Safety Standards (FMVSS) and other applicable regulations.
"Webasto set out to deliver the safest, most robust and highest functioning aftermarket sunroofs on the market," Mark Denny, president and CEO of Webasto Thermo & Comfort North America, said. "Through the use of unparalleled design and testing protocols, Webasto's Structure Plus feature puts Hollandia and SolAire sunroofs in a class all by themselves."
At the heart of Webasto's Structure Plus is a design that not only replaces needed strength, but also performs the intended function of the original roof structure. Designed exclusively for Webasto's Hollandia and SolAire brand aftermarket sunroofs, Structure Plus technology has been thoroughly tested and certified to meet all Webasto global OE standards.
When properly installed in approved applications by Webasto-certified authorized installers, utilizing the Webasto Structure Plus with a Hollandia or SolAire aftermarket sunroof adds strength, security and value to any vehicle. Webasto Authorized Installers receive training from factory representatives on the installation and service of all Webasto sunroofs. Webasto has a network of more than 200 authorized North America installers. Information on technician certification and becoming a Webasto Authorized Installer will be available at Webasto's SEMA booth.
Structure Plus Sunroofs on Display at SEMA
Webasto will have three Hollandia sunroofs on display in booth 12927 in the North Hall of the Las Vegas Convention Center during the 2016 SEMA Show. Each of the sunroofs have the Structure Plus feature, and the dimensions of the application dictate which of several forms of the technology are used.
The Hollandia 300 NSG will be displayed for the first time at the show and features a large glass panel and sleek profile. The 300 NSG was developed according to OE standards, which optimize the look of the vehicle interior and exterior to maintain a factory look and feel. The NSG features pre-assembled components to optimize installation time.
With the Hollandia 300 NSG, interiors can be finished with a factory look via soft wrapping or with a unique style by covering the interior trim with fabric to match or accent the vehicle interior. Switches are offered in black with chrome trim and are available in a choice of four LED lighting colors in the Hollandia Comfort version. The Comfort version also includes Rollo Sunshade, Wind Deflector and Soft-Touch / Auto Close features.
A Hollandia 400 fabric folding roof will also be on display, along with a large Hollandia 700-III Comfort, installed on a RAM 3500 SLT Crew Cab Chassis 4x4 172.4″ WB. Both display units will feature Webasto's Structure Plus technology.
"Today's vehicles are constantly evolving and changing in both complexity and design," Denny said. "With its deep connection to automotive OEs, Webasto is uniquely positioned to stay abreast of design changes and to meet those changes with intelligently designed products that work seamlessly in aftermarket applications."
Images of Hollandia and SolAire sunroofs with Webasto's exclusive Structure Plus technology can be viewed at http://www.Webasto.com.
– END –
About Webasto:
Webasto Group based in Stockdorf near Munich has been a family-owned business ever since the company was founded in 1901. The group operates internationally at over 50 locations (over 30 of these production plants) in the divisions roof and thermo systems. Webasto is one of the top 100 automotive suppliers worldwide. For 2014 the Group realized a sales volume of 2.5 Billion Euros and employs over 10,000 employees. The company´s core competencies encompass the development, production and sales of complete roof and convertible systems as well as heating, cooling and ventilation systems for passenger cars, commercial and special vehicles, recreational vehicles and boats. For more information please visit http://www.webasto-group.com
Corporate Contacts
Webasto Thermo & Comfort North America, Inc.
Amanda Kopczyk
Ph. 810-593-6070
E-Mail: amanda.kopczyk(at)webasto(dot)com
Hollandia, SolAire and Structure Plus are trademarks of Webasto.
RAM is a registered trademarks of FCA US LLC. The use of RAM product designations are for reference purposes only.
Neither Webasto nor its products are sponsored or endorsed by FCA US LLC, and there is nothing else in the use of the RAM designations that should lead a reader to believe that there is an association between Webasto and FCA US LLC.